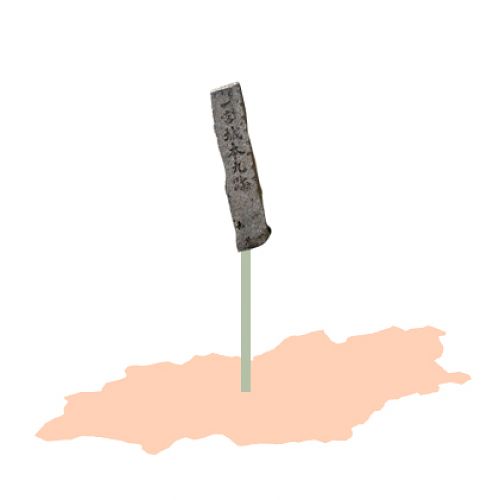 I ask the English Parents if they want to see another shrine on the way home…they say yes…
So I drive down small country roads with the English Parents trembling in the backseat, towards a shrine that I know exists on top of a hill between Onoji and Jinryo.  When we first arrived in Kamiyama, Eri and I tried to push our bikes up the road to the shrine but it was too steep and the bikes were too heavy.  This time I thought we'd walk up the road since English Parents enjoy walking and, in fact, it would be impossible for me to drive them up there..
Ten minutes into the walk I remembered why we had turned back with the bikes a couple of years ago.  Bears.  We'd been worried that bears might get us and we were tired of pushing the bikes up the hill.  Now I know that we shouldn't have worried about bears, we should have worried about wild boar instead.  Of course as soon as I thought this I heard one thundering through the undergrowth about 70 metres to my left.  The English Parents were 30 metres behind me and I suddenly felt my body tingling with adrenaline.  I picked up a stick and beat it against a tree and snapped it and threw it into the trees.  I could hear the creature moving away from us down the slope towards the stream.  After that experience I felt slightly on edge for the rest of the 30 minute walk but we did make it to the top of the road without getting gored.  The first thing I see is a large mangey dog staring at me.  I stood still while it got up, but it didn't move forwards.  I could see the leesh now so I walked towards the car parked next to it.  From there I could see the collection of buildings and the large flattened carpark, a hatake, the shrine and a tool shed.  It was cooler up here and the dog was still staring at me, it barely moved as we walked past it and down a rough little concrete path.  An old woman must have seen us, she came out of the house and told us to go inside the shrine.  I said the English Parents should go in, I wanted to take some photographs outside first.
When I had taken my boots off, stooped inside and I saw the English Parents sat around a low table with an old man (probably the priest), the old woman and a large beefy man.  The potential priest offered shochu to the EP's and they had some.  The potential priest made conversation but I could feel the communication-difficulty-tension.  I tried gamely to engage him but it was too difficult.  We all just settled into grinning at each other.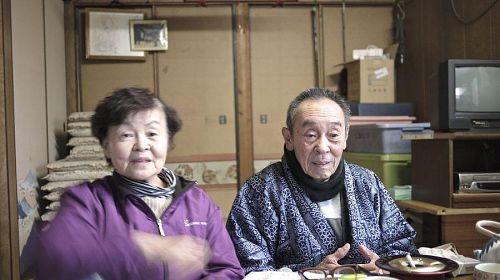 I could see that an English Parent was watching the beefy guy performing some sort of acupressure on the old woman, specifically on her thumb.  This English Parent has got a faulty thumb and I knew she wanted to know what he was doing.  Beef guy could speak a few words of English and as soon as the English Parent had shown him her monkey thumb he wanted to help.  He gripped her hand and shoulder in his bear hands and just held them still.  This lasted for about 10 minutes.  I've honestly never seen the English Parents face look like that before.  I could see her thinking 'What am I doing here?' 'Should I be letting this stranger do this to me?' 'I've just had a drink of something and I can't understand anyone' 'Could this acupressure do any damage to me?' 'How can I relax?'  At times she seemed to fade in and out of consciousness.  The way he was gripping her I could almost imagine it was generating steam, that there would be an indelible mark left on her skin.  It was remarkable to watch.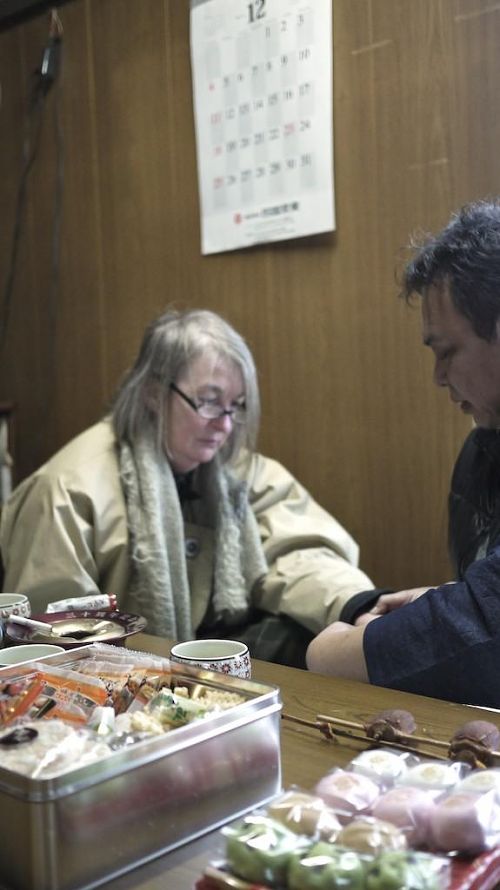 So, did it work?  'It doesn't feel any better and he said I have a slipped disc too'.
It was getting dark now and we had to walk back down the road so we said our goodbyes.  Beef guy offered to give us a lift since he was leaving too.  We accepted and he drove us down the hill smoothly and in a controlled manner.  He practices shiatsu and he is the owner of a karate dojo in Fukui prefecture.  He grew up in Ishii, Tokushima and I couldn't catch why he was visiting this shrine today.  He is a black belt of course.  He was a nice man and we thanked him for the ride.  The English Parents noted that there is no way you could trust people they way they did today if this was in Britain.  They look relieved to be going home.

At home, we had a beautiful spread courtesy of Matsubaan.  A traditional Japanese New Year feast, with monkfish guts on the side.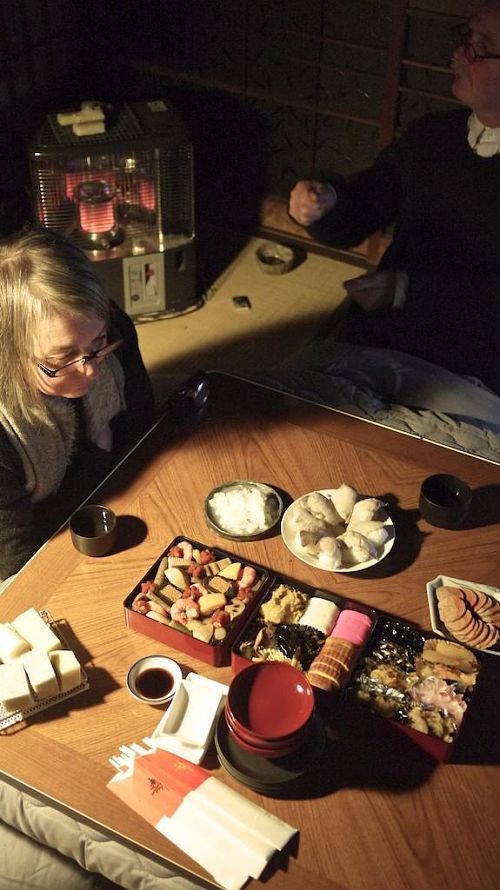 Happy belated New Year..
More English parents in April when we hope to visit our daughter, Emma, in Kamiyama again,
Shame the shiatsu guy couldn't help with your mother's thumb, but what an opportunity. Maybe there is a slow healing process.
Eric & Janet

I think with something like shiatsu you need to have an open mind. You can't go in there with preconceptions about traditional medicine because I'm sure if you do, then it is not as effective.
That's great news you'll be visiting Kamiyama again - looking forward to catching up Eric!