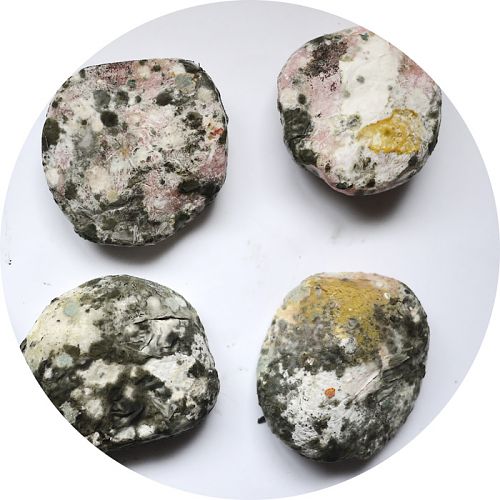 Perhaps the real adventure begins now, from this moment onwards..  You can ask yourself what are the most important things in life and you generally get the same answers from that rational supernumerary twin hiding in the pit of your arm.
Fate dealt me a handful recently and the scale of it all is still difficult to grasp.  The other day we got the keys to our new house and a quick tour of the main features.  It came with a nice side of mountain and, smack in the middle of it, a spring in a small cave.  A man called Abe introduced us to the spring.  It was a jolly scramble up the hillside..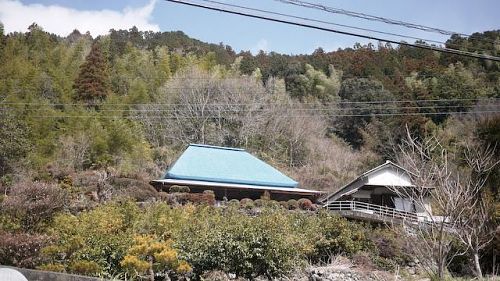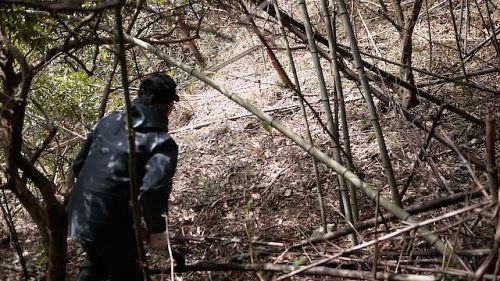 The woodland above the house needs some TLC.  It's all terraced for allotments and in between the bamboo and weeds there are some productive trees/plants growing.  Signs of inoshishi digging for bamboo shoots - huge pits everywhere.  Will have to watch out for these guys when we make an allotment.  There is a metal 'train' track from the bottom near the house up to the spring which will be very handy for carrying logs / fruit / spring water down the hill.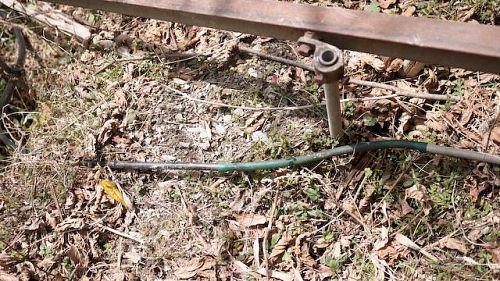 Above, you can see the metal monorail track and the water pipe carrying spring water down to the house.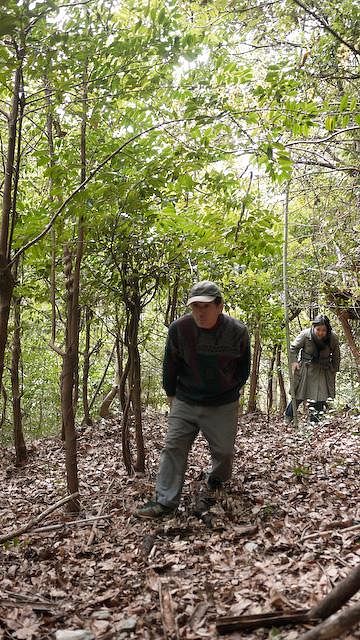 Just next to the spring we have some small trees growing, sakaki.  They are sacred evergreen trees used in shinto rituals so planting them next to the spring might have a religious significance ( or it could be that the soil is very moist here and they grow better…?).
Apologies for the blurred photo below.  This is the water pipe for spring water.  Abe san pulled it apart and it was dry.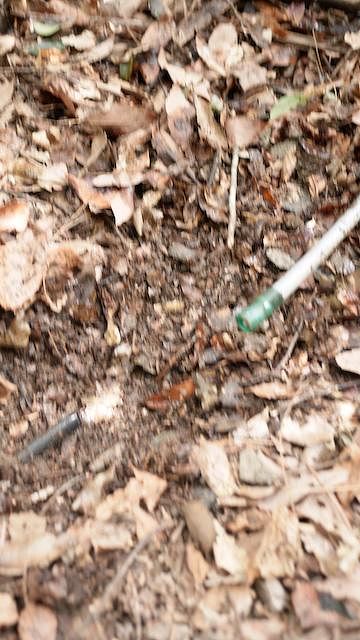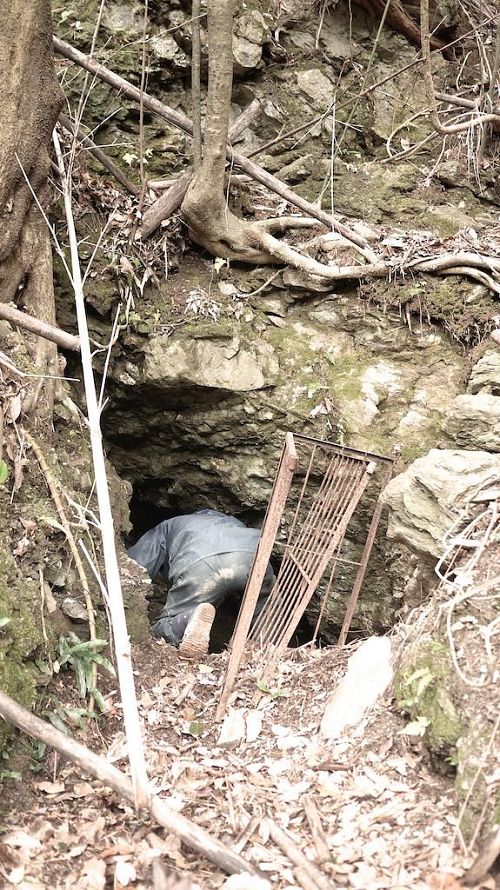 Inside the cave we have a small pool of water and although I couldn't see any obvious water flow, I could hear lots of distant dripping noises.  In winter the water level is lower, of course.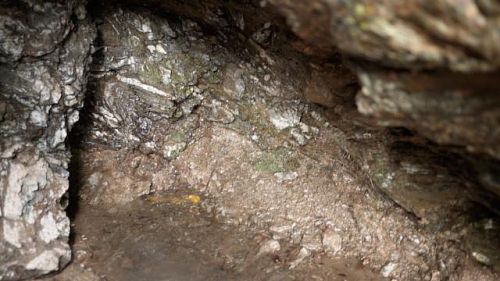 Leaves and rocks are blocking the flow so I need to clear the debris and dig out the pipe and replace it.  I guess in the future some sort of filter to stop debris blocking the pipe would be good.  It's all got to be done soon though because once the snakes wake up in spring, they'll want to move in to the cave where it's nice and cool.  Anyone want to help me with this project?  I can give you beer.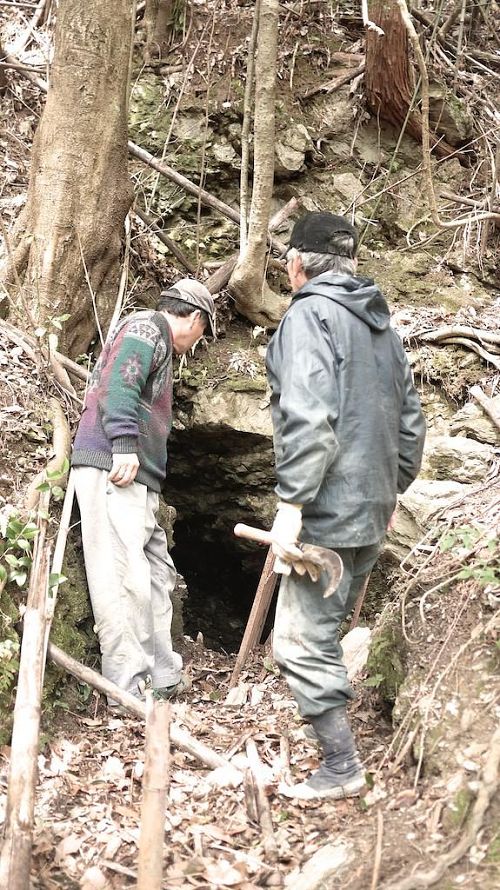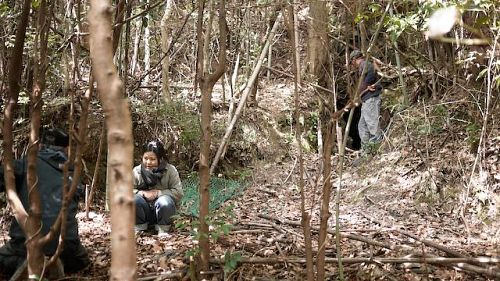 I should get on with my lesson plans now.  More soon..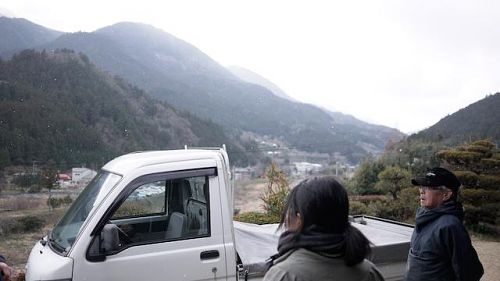 it's great!
I meant its really awesome!!
I want to see your new house soon.

give me beer and plane ticket NOW!

ditto….

rufus and eri if i lived down the road i would be up like a flash to help out ! Sadly not able to nip over. S o DELIGHTED to hear your good news .KEEP WELL look after each other. BIG hug
Margi x x

Thank you! Hopefully you can visit us sometime very soon! The cherry blossom is out now here in Kamiyama and I'm sure you would enjoy seeing it.