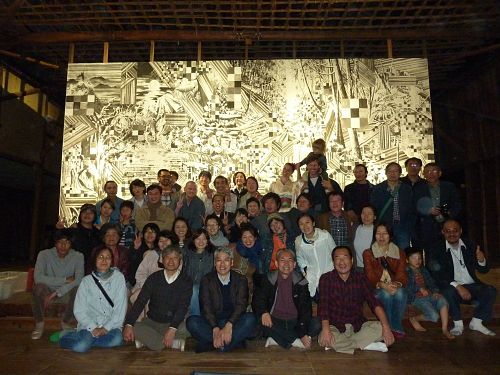 This year's program has been finished on November 4th.
Thank you for all your supports and greatest works for artists.
Selected artists for KAIR2013 program.
・Susken Rosenthal
・Nik Christensen
・Sayaka Abe
+ + + + + + +
▶ Artists

▶ Archives
・KAIR 2013 (Newspaper:JP)
・KAIR 2013 Artist interviews
▶ Schedules
・Event schedules
・Exhibition (10/27-11/4)
・Workshops @ schools

▶ Contacts
+ + + + + + +
Susken Rosenthal´s basic theme is the exploration of space and perception. Her large-scale installations are mostly set up temporarily in public spaces. They are specially designed as a result of research of the environment and its architectonical, social or natural context. Placed in a special location the art work interacts with its surrounding and changes the everyday reality of the situation. For people that are accidently passing by it becomes like an almost surreal experience. Her indoor installations are dealing on a more abstract level with perception and space. Her work as a curator of international public art projects is closely connected to her personal art work. She is the artistic director of Kunstpflug e.V. that is an art initiative based in the countryside outside of Berlin. Susken Rosenthal graduated from Academy of Fine Arts in Berlin (West). She works and lives in Berlin and Land Brandenburg.

Nic Christensen
Nik Christensen was born in England and raised in The Netherlands where he attended Gerrit Rietveld Academie in Amsterdam. Nature, and in particular man's existence within it, has always been a strong focal point in his work. Interested in the duality of destruction and resurrection and exploring the friction between the real and imaginary, he looks for new interpretations, reconfiguring that which looks familiar. Working from images ranging from antique landscape photography to film, he creates monochromatic drawings on paper with sumi ink, mostly large format. The simplicity of materials and the immediacy of working with ink allow for a certain stillness yet creates tension in its permanence. Christensen currently lives and works in Amsterdam.
Sayaka Abe
Born in Mie prefecture. Graduated Tama Art University, Department of Ceramic, Glass, and Metal Works. Moved to the Netherlands and graduated from Gerrit Rietveld Academie, then got a Master of Applied Arts degree from the Sandberg Institute as a participant in the Agency for Cultural Affairs Overseas Study Program for Artists. The process of my artwork is to look for ways to keep near me the things that exist and contradict within each story that starts from the people and places I encounter. For example, the Maria Series was made when I was visiting an older Dutch woman in her home, and I expressed my experiences in real size on a cloth, and her story was done by unraveling threads. In order to give the viewers an opportunity to reflect, I try to create a display that uses all five senses, using touch, lighting, sound, and more during my exhibitions. (Residing in the Netherlands)
► KAIR 2013:2013/8/23~11/6
► Food Exchange Party:9/15(Sun)(Date has been changed.)→9/23(Mon)@6pm~ *Reservation needed
fee:1,000yen/@Kamiyama Noson Kankyo Kaizen Center
► Open Studio Tour:9/29(Sun)
*Meet @ Michino-eki Onsen-no-sato Kamiyama @9:45am / leaves @10:00am
► Exhibition:10/27~11/4 10am-5pm  *11/4 10am-4pm
► Art Tour:10/27(Sun)
*Meet @ Michino-eki Onsen-no-sato Kamiyama @9:45am / leaves @10:00am
【Exhibition】
2013/10/27(Sun)~11/4(Mon)
10am~5pm(*11/4 10am-4pm)
► ► KAIR2013 Art Tour
10/27(Sun) Meet @ Michino-eki Onsen-no-sato Kamiyama @9:45am / leaves @10:00am
* During the exhibition, ArtMap will be handed out @ stores in Kamiyama.

→ menu
【Contact】
Kamiyama Artist in Residence
Tel:088-676-1177
email:info.gvi(a)gmail.com
※Please change (a)→@ to use.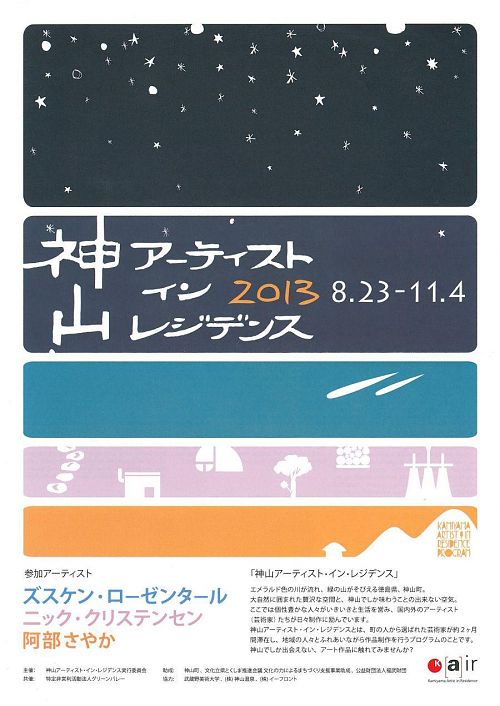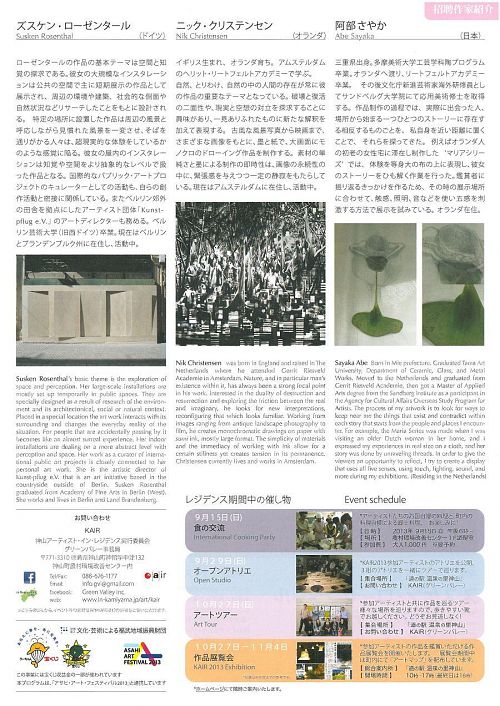 No comments yet.
Sorry, the comment form is closed at this time.