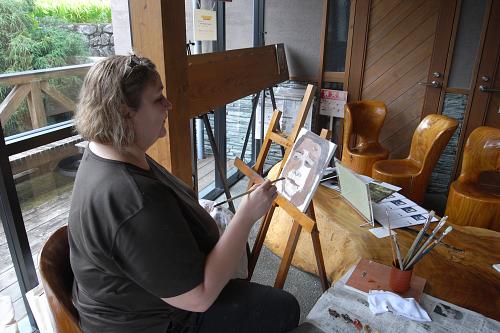 I caught the bus to Kamiyama this morning. Everytime I ride that bus, I notice new things on the hour-long ride. Close to the city a lot of people have already harvested their rice, but closer to Kamiyama it still hasn't been harvested at all.
From Uetsuno bus stop I walked down to Michi no Eki, where Liz Roth (KAIR 2003 Alumni) held Day 2 of her 24 Hours/24 Portraits project today. Normally, she would work for 24 hours straight on such a project, but since there are no places (other than Sunkus!) in Kamiyama that are open 24 hours, it was decided to stretch the project out over three days, using three different venues. The day before, Liz was at Hidenoya, a local diner. Tomorrow she is scheduled to work at Matsuba-an, the café.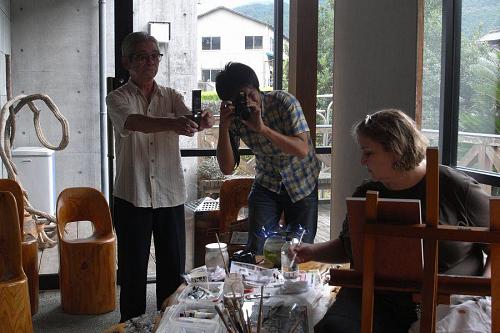 A man from the newspaper came to photograph Liz so that he could use her photo in a blurb about the KAIR 10th Anniversary event going on this Sunday. He also interviewed her about her project, so I'm sure there will be a write-up in the paper.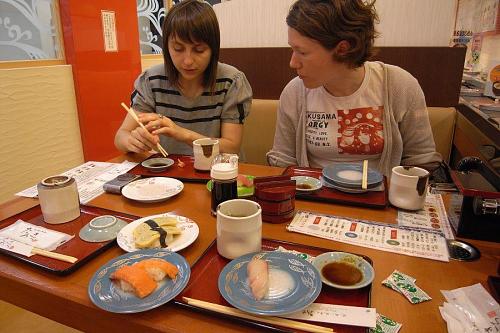 Meanwhile, Chan and I took Andrea Dezsö (KAIR 2008) into the city to take a look at the Awa Deko Kaikan puppet museum (which I mentioned before) and to do a little shopping. I was happy to show Chan and Andrea some of my favorite places to buy things like wine, bread, and cheese! We were also able to have sushi at a place that opened recently near Tokushima Station. Chan proclaimed it "better than most."
This weekend, Karin and Aki will arrive, and we'll have the KAIR 2008 Welcome Party. We're so glad to have Liz Roth and Kazuyoshi Yoshizawa (both from KAIR 2003) in town to help us celebrate the 10th anniversary of KAIR and to welcome this year's participants. It will be a meeting of KAIR's strong older branches and fresh new leaves.
No comments yet.