About us
Green Valley Inc is a non-profit organization based in Kamiyama, Tokushima, Japan.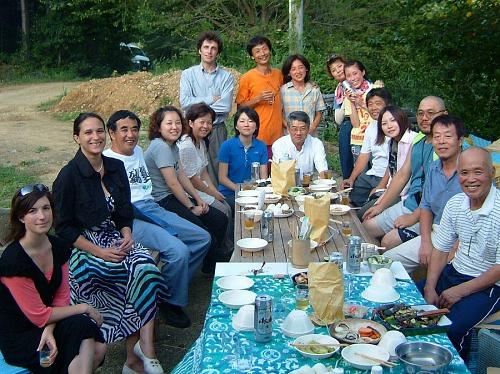 Founded:
2004 (its previous incarnation, the Kamiyama International Exchange Association was founded in 1992)
Mission:
Our mission is to solve regional problems with arts and culture, and to build a self-sustaining and economically independent community.
Vision:
We want to take the strength and wisdom of the local people and people who come together here from all over Japan and the world, and turn our little corner of Shikoku into an exciting, creative place, a place we call "Global Kamiyama". We hope that our work here will impact Japanese society, changing how people work and live in Japan's rural areas.
What we do:
-Support for visiting artists
-Support for mid- and long-term visitors
-Provide information about Japan (particularly Shikoku)
-Stimulate the local economy and encourage cultural development
-Find solutions for rural problems and act as a model for other regions to follow
-Improve local living conditions and the natural environment
Main Programs:
-Kamiyama Artist in Residence (KAIR)
-KamiyamArt (Workshop done in cooperation with Musashino Art University)
-Musabi Kamiyama Internship (together with Musashino Art University)
-Poster Gallery Kamiyama
-Kamiyama Mailing List
-Adopt-a-highway Kamiyama
-Aioi Forest Management
-Kamiyama Facility Designated Management Program
-Kamiyama Migration Exchange Support Center Management Program
Membership
All ages, genders, nationalities, education levels, and occupations are welcome to join. All you need is a belief in your own ability to change the world for the better, and a "try it and see" attitude.
Full Membership: ¥3000 / year (full members have voting rights)
Supporting Membership: (individuals) ¥3000 / year, (corporations) ¥10,000 / year
I want to participate in Green Valley's activities!
<Staff>
We do not have any jobs available now, but if you are interested, please contact us anyway.
<Volunteer>
These are just some of the things we need help with. If you are an optimist and ready to try anything, get in touch!
-updating our website,"in Kamiyama"
-editing the daily newsletter,"Map of Today"
-managing and editing digital contents
-help with planning and executing the Kamiyama Artist in Residence program
-assisting artists and other visitors
-participating in forest management days and adopt-a-highway days
<Internships>
Every year, Green Valley accepts interns from Musashino Art University to assist with the planning and execution of the Kamiyama Artist in Residence program. By experiencing a real NPO in action before graduating and entering the real world, interns are able to re-evaluate their own beliefs and discover new things about themselves. If you are interested in becoming an intern, please get in touch.
Supporting Green Valley's Activities
We accept donations from individuals and groups who want to support Green Valley's goal of creating a Global Kamiyama. Supporters located within Japan can donate by depositing money directly into the following accounts. If you intend to donate, please get in touch with us in advance and let us know your name and address.
Bank Account Information:
Postal Account: 16200-3931
Account-holder's name: トクヒ)グリーンバレー
-or-
JA Myozai-gun Jinryo-shijo Futsu-yokin 763414
Account-holder's name: 特定非営利活動法人グリーンバレー