Vol.01
Why are you here?
From other countries, to Kamiyama
People often remark that there are a lot of foreigners in Kamiyama, but where did they come from? What is it like for them to be living in this town?
Episode 0
Prologue, and the Story of Ikuko Saito
March 30, 2020 release
Kamiyama's Artist in Residence Program began in 1999. This is its 22nd year. Every year, three to five artists come from overseas, and make lots of art and memories here before they go home again. Some come back again and again, while others even make this town their home. There are even some non-artists who have come from overseas.
It's probably unusual for a Japanese mountain town to have so many non-Japanese people in it. Even if they don't all have the same reason, why did this person come here? What is that person thinking about as he lives his life in this town?
I think one of the places where the most non-Japanese people gather is the French bistro and AirBnB*1 Café On y Va*2. As a prologue to this series, I first spoke with Ikuko Saito from On y Va.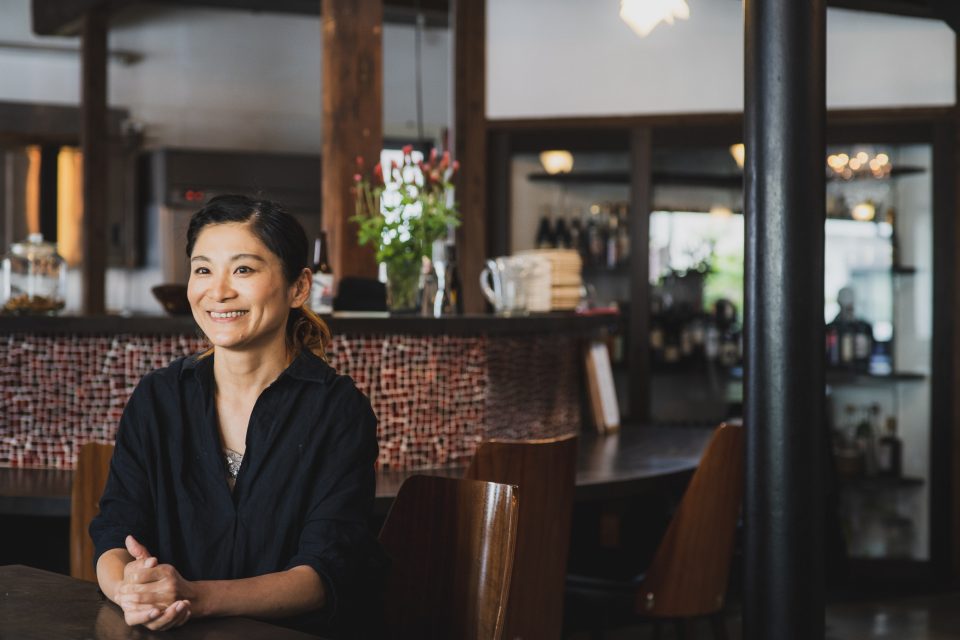 Truly a lot of different people come here

What sort of people come to Café On y Va from overseas?
IkukoThis place is right in-between temple 12 and temple 13 in the o-henro (Shikoku 88 Temple Pilgrimage). For people who start walking at temple 1, I think this is right where people's knees start hurting and they start to lose motivation (laughs).
Right at that point, there's our café, and once you come inside, our chef Hiroyo Hasegawa can speak Spanish and French and English, and I can speak French and English, so people might feel at home. A lot of people ask if we can help out with arranging the next step in their travels.

There are a lot of pilgrims.
IkukoYes, very many. Aside from the pilgrims, a lot of people come here directly from Kansai International Airport.
We opened the café at the end of 2013, and started the inn the following year. Since then, people have been coming from many different countries. For example, the Netherlands, Israel, Poland, and South Africa.
The common thread? Some people say they want to stay in a wooden house built by a Japanese carpenter, or that they went to Kyoto but it was all modern buildings. They look for buildings with a "tokonoma" alcove or an "engawa" porch on AirBnB and our place comes up.
I think when they hear that we can speak English, that might make people feel more at ease.
I think that's how people come here initially, and after that it's connections between people. People hear that it's a good place to visit from people who say they had a good time, via word-of-mouth. We've had people's cousins and coworkers come, or people come back again with their spouses and children. We have more and more repeat visitors. Some have even come three or four times.
We had a man come from Chicago to finish writing a novel, who was drawn here after finding out that a lot of people in this town work remotely. He would come to the café to eat when he was hungry, go to the hot spring when he was tired, and then go back to writing. He stayed for about two weeks, I guess?
Apparently the book was published, and he said he'd send us a copy but it hasn't come yet. (laughs)
People come not for a break, but to work.
IkukoYes. There's a time difference between there and here, so they will work at night and sleep during the day.
For example, we had someone come from Paris. His apartment was being renovated so he wasn't able to stay in it. Rent for a room in Paris is expensive, so he decided he didn't need a home and put everything in a suitcase and took off for a trip. He spent a month in Korea, and a month in Indonesia. Then he came to Kamiyama and said, "This is a good place."
That person is a timetable consultant for buses and trams, and he can work from anywhere. He came for a month before, and plans to come again.
One time, a family came because they were going to move to the desert, so they wanted to spend some time in a place with lots of water where they could play in the river. The children played with the local children, and I think they made some really good memories here. So many different people are coming here, more and more.
I want to hear more and more about them. (laughs)
IkukoSome descendants of cowboys came. They still have that lifestyle. They only sleep under a roof on rainy days or on cold winter days, and ordinarily spend all their time outside with the horses and other animals. Those women came to stay.
Cowgirls!
IkukoFour cowgirls. They came to Japan but they said the smell of the fabric softener at their accommodation was too strong and they had to sleep in the yard, but they liked it here.
Just when they were here, some local Kamiyama people phoned up because they needed help lifting a big wild boar they had killed while hunting in the valley. The cowgirls all went to help, and lifted it in five minutes. (laughs)
Three years ago, we had a visit from a Swiss person who had been running a ranch in Australia for the past 35 years and was ready to sell it and start a new life. Just last week we heard that it was sold.
A lot of people travel when they are at a turning point in their lives, so we get to hear a lot of their stories, and they make friends with everyone at On y Va, so when something changes they come to visit again and tell us all about it.
Experiencing the Local Lifestyle

IkukoWe run a restaurant and an inn, and there are three rooms where people can stay. We can sleep up to ten people, but we limit reservations to one group at a time, even if it's just one person.
Many people join us in going about our daily lives. For example, we might go into the mountains to pick wild tea leaves, and then build a fire, steam and roast them, and then drink the tea together. We might spend a whole day just doing that.
That sort of thing is really fun. What a guest likes to do depends on the person, so it's hard to handle two groups at once.
Do you put information about those sorts of activities online?
IkukoNo, we don't. If someone comes, we might tell them our plans for the following day and ask if they want to join in. We might spend three hours playing in the river, or go to the sea to fish. Lately our sauna is popular (we built a sauna in the woods), and we'll get sweaty and then jump in the river.
It's fun to spend time together. The person who came from South Africa taught us how to bake bread.
I don't think people are aware of how many different people are coming here.
IkukoAh, I suppose so.
I wonder how they find Kamiyama to be?
IkukoI think this town has an open atmosphere, and everyone seems to be fulfilled and feels comfortable, don't you think? People tell me that's what they like about this place.
Could it be those are the things they feel about you?
IkukoHmm, I wonder. That could be, but I do think there is that sort of atmosphere about this community.
There is a lot of interaction with people in the community. For example, if someone says they want to try playing the shamisen, we'll ask a neighbor to come over and let them try it. Someone said he liked remodeling cars, so we introduced him to someone here who likes remodeling cars. Those two got to be friends, and he has come from Hong Kong to visit three times now.
Kamiyama is not a big sightseeing spot, so in the end, people wind up experiencing the local way of life. For example, we might wind up making straw sandals together, experiencing life the way people in Kamiyama have done for many years. We had a customer in the café who came from Hokkaido whose mother was living nearby, alone. The customer said, "I'm worried about her so could you visit her sometimes?" and we started keeping in touch with her.
That mother makes beautiful straw sandals out of rice straw. So when we have guests who are interested in that, we go and make them with her.
Long ago, people weren't able to import things from far away, so they had to make do with what was nearby, and they had the skills to make their lifestyles beautiful. When we are experiencing that together, people begin to tell us about similar things in their own countries. It makes me think we are all the same in the end.
There are lots of different countries, with different cultures, and while everyone is living in different situations, the things that make people feel happy are very simple. When you eat something good, it makes you feel good. When you are able to make something beautiful with materials you find nearby, you feel relaxed.
And then people begin to think this is a good place. Then, when they go home to their own countries, they try to see them with new eyes. I think that's a really good way to travel.
Riches that Grow the More You Use Them

IkukoKamiyama isn't flashy. For example, here's a tour you can go on, here's a store, here's a bunch of billboards – not like that.
It's not a tourist attraction, it's just a place where a bunch of different people are living ordinary, beautiful lives. It's got a peaceful energy, and there are lots of different hamlets.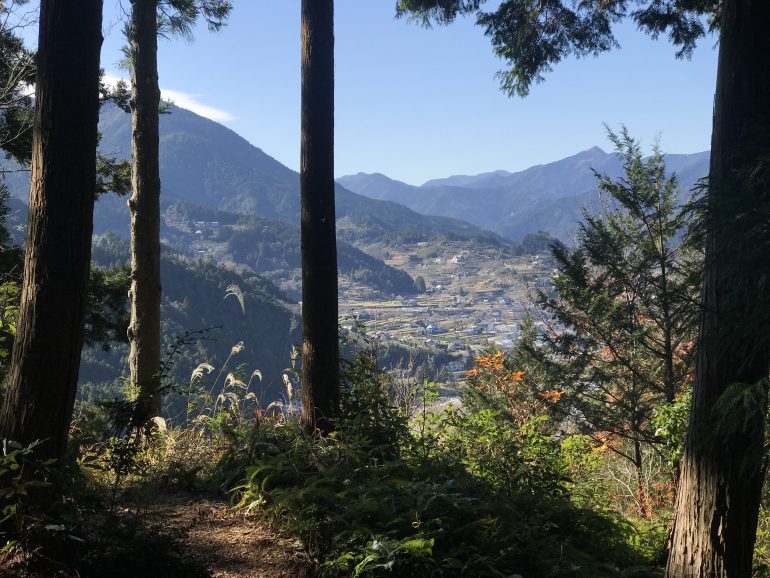 We take people kayaking, or to pick tea leaves, but that's not a tourist product. We don't need to make it into a product. It's our day-to-day life. It's fun for people to join in and make something together.
That's the original mutual understanding, and the spirit of hospitality towards travelers. If you think of it simply like that, it really clears your head. We feel happy when we meet local people. There's a deep sense of love. I think I've grown to love Kamiyama because I've experienced that in a variety of different ways.
It's nice how time spent on a trip isn't simply consumption.
IkukoBefore I moved here, when I lived in the city, my life assets would diminish when I used them. I managed to get somewhat ahead in that competitive society, and I got power in the form of money, and I'd get paid every month so I'd buy furniture or go on trips, buying the things and time I wanted with money.
But if you use that money, it goes away and it doesn't increase.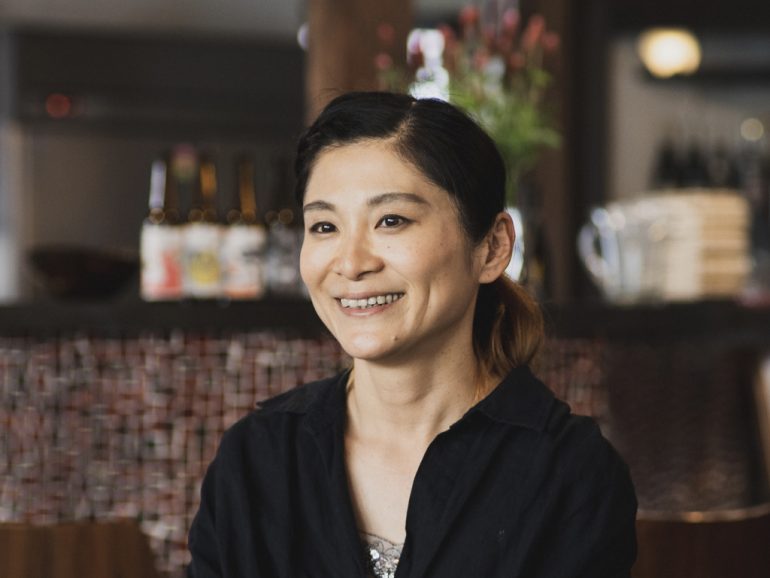 When I came here, I realized I had totally different assets. For example, with something like the love of your neighbors, the more you use it the more it grows. Things you can learn from the people in Kamiyama, for example woodworking or carpentry skills, how to catch little river fish for making soup stock, or how to build a rock wall.
The more you use that sort of thing, the more you have. It doesn't decrease, but rather it just gets better.
Living in a way where your assets grow the more you use them, that relaxed and happy feeling is totally different. For example, if you gather fallen leaves and mix them into the dirt, and use bamboo to grow bacteria. The more you do it, the richer you become. That way of life, you can have it in any country. That richness that grows the more you use it, you can make it with your lifestyle.
I think for a lot of people, this place helps them to remember that.

…and that was Ikuko, This series, "Why are you here? – From other countries, to Kamiyama" will profile nine people who were born overseas and people who are close to them.

LINKS:
*1 Café on y va
*2 Traditional ex-sake brewery and bar
Please confirm the current information from the link above (April 1, 2020)
A message from everyone at NPO Green Valley and Kamiyama Tsunagu Corporation:
We're thinking of our friends around the world as COVID-19 affects us all. Let's stay in touch online until we can safely meet again.
Text: Yoshiaki Nishimura, Photography: Masataka Namazu
English Translation: Claire Tanaka
Production cooperation: Mie Manabe, Keiko Kudo, Aya Fujimoto
Planning and production: Kamiyama Tsunagu Corporation