Vol.02
Holidays, weekends
and after school for children
How do children spend their after school, weekend
and holiday time in this town?
Do children spend their spare time with the adults in Kamiyama?
Episode 4
Micro Library Hon no Hiroba
October 8, 2021 release
It is their mission to create a place where people can be immersed in books as well as make an environment that is beneficial for reading in Kamiyama. This is "Hon no Hiroba", the micro library.
It is run by Sadako Kawano, Kazue Ichiwaki, who both work for Green Valley Inc. and Ryosuke Komagata from Kamiyama Town Office. In this episode I spoke to Sadako and Kazue at the Kaizen community center where their activities for "Hon no Hiroba" began.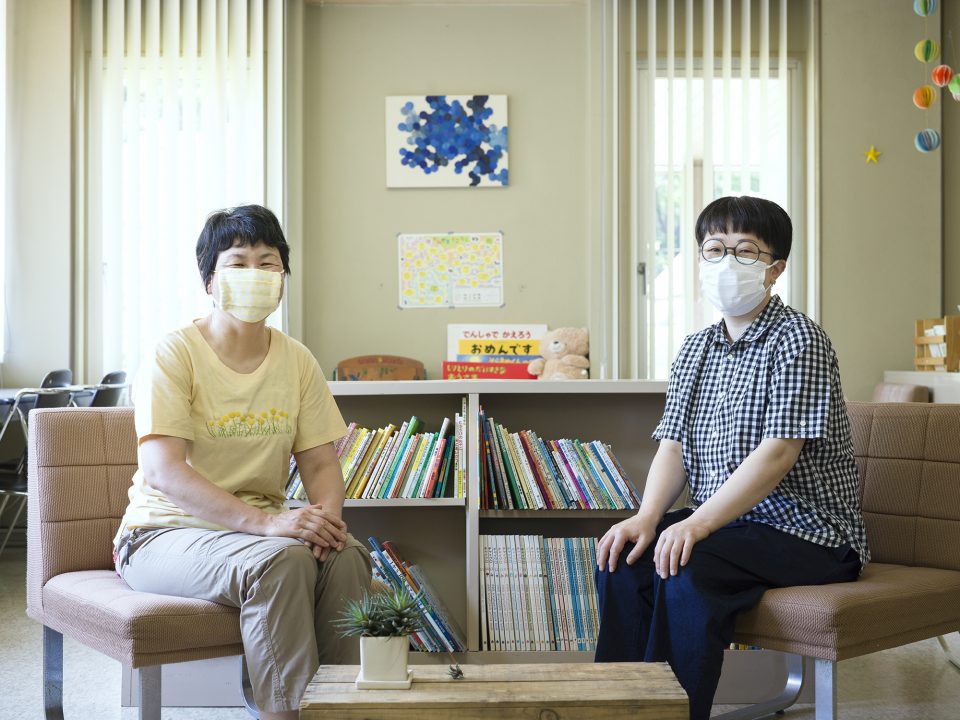 Something has to be done

Please tell us about yourself and your childhood memories.
Sadako I'm from Nakazu, Kamibun (west Kamiyama). Now I live in Aoibu, Jinryo (central Kamiyama). The best memory from my childhood is when a group of parents made part of our river into a swimming pool by stacking stones to make a nice deep pool for us to jump in.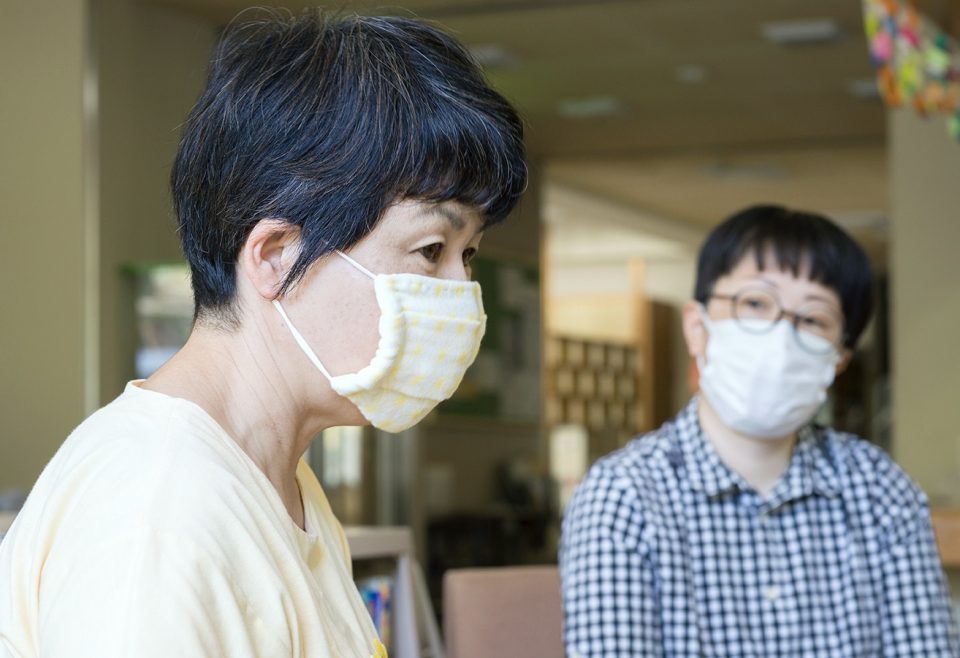 Kazue I was born in Nakatsugawa in Gifu prefecture. I grew up in a tranquil post town overlooking the Kiso River which stretches through the Nobi Plain. I have a lot of fun memories from my childhood. I moved to Kamiyama to join the Kamiyama Juku 2011 (the Kamiyama Juku is a vocational training school started in 2010).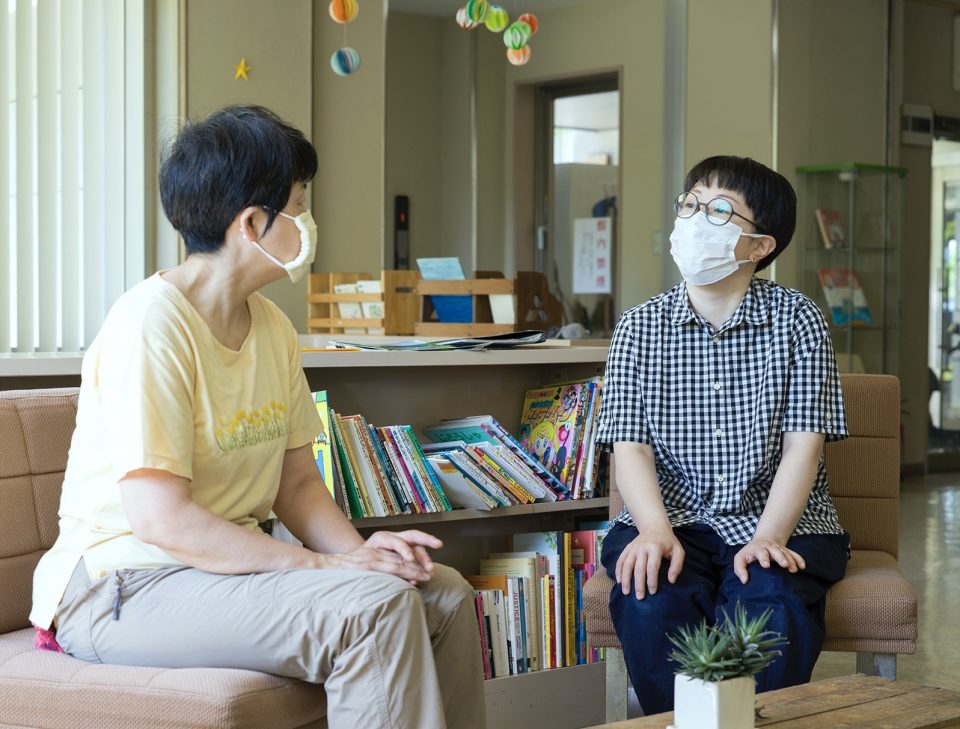 Tell us about the beginning of "Hon no Hiroba". How did it begin?
Sadako There is a library room in this community center where Green Valley Inc. is based. Since I started working for Green Valley, this small library room has always been my place of comfort. I sorted all the books and checked every single one of them. I spent a lot of time looking at books in this room for about 7 to 8 years until Mr. Takeuchi, the secretary general, and Kazue joined Green Valley.
I shared my thoughts about the library space with both of them and we all agreed that something had to be done.
Kazue There is no library in Kamiyama. I started this project because I wanted a place where anyone can drop by to read or to borrow books to take home.
It was great to have Ryosuke from Kamiyama Town Office come and join the very first meeting for the project. Tokushima prefectural library cooperates with local libraries and the board of education from each municipality provides a service for people to access the collections from a distance. He was in charge of this service on the board of education (BOE) at that time.
Sadako Ryosuke negotiated with the Tokushima prefectural library to see if "Hon no Hiroba" could utilize unwanted books from their collection. And then through the BOE, we were able to receive many interesting publications.
Kazue At that time, the BOE set up a system to catalog all the various volumes managed by them and we at "Hon no Hiroba" were in charge of handling the actual items.
So, we don't have any bestsellers or new publications. What we have here is a unique selection of books. We actually thought this was more interesting for our place.
Sadako It made our place one of a kind, didn't it?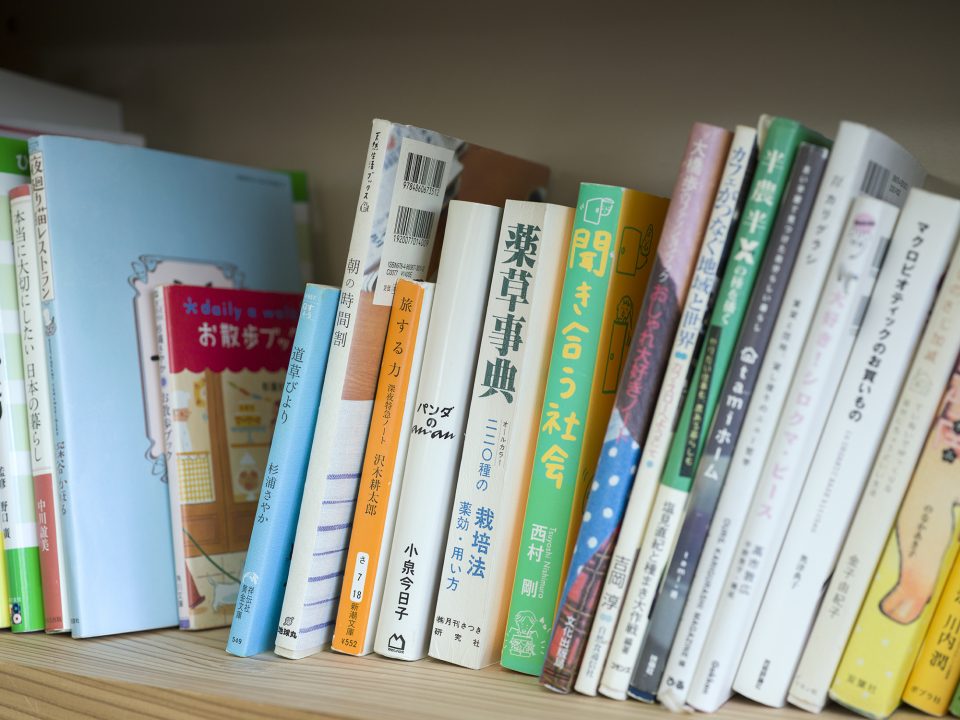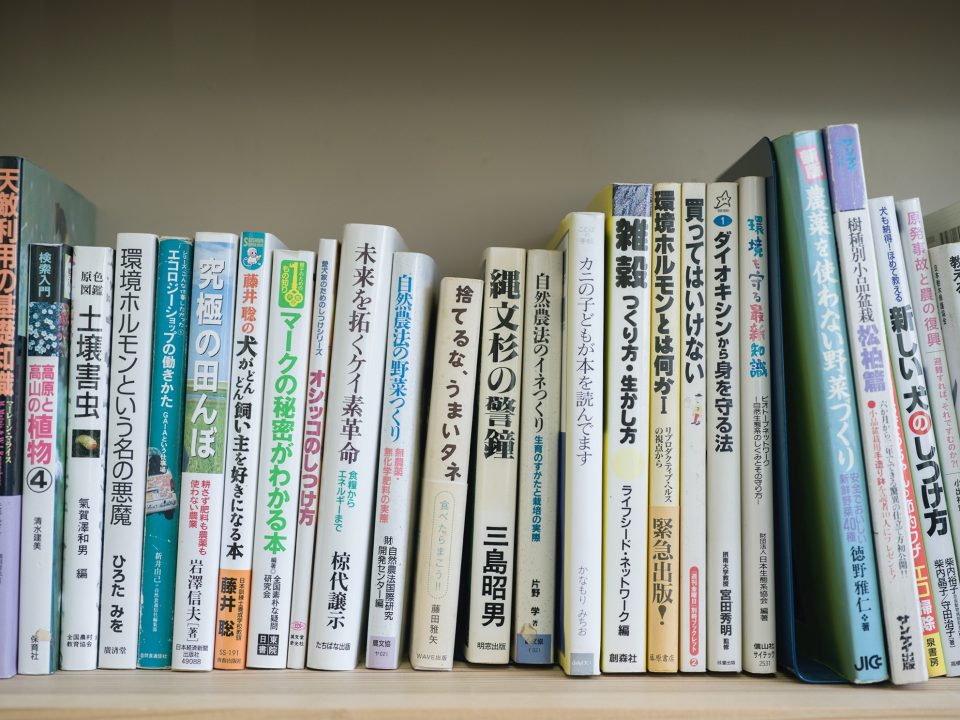 Kazue Green Valley helps us as a private library run voluntarily by residents and the BOE supports us to encourage effective use of public books. We also get a chance to receive librarian training at Tokushima Prefectural Library a few times a year. We have gained a lot from these training sessions.
Many people contributed to the start of this library together.
Sadako But I wonder if Ryosuke wasn't in the BOE, and if he wasn't such an avid reader, would this project have ever really started? Also, because of the fact that he and Kazue are both qualified librarians helped a lot. This is what allowed us to move forward with the project.
Soon we became so busy expanding the library. More and more books arrived and we had to let go of some of them simply because we had no space left. But I couldn't stand throwing them away.
Kazue I suggested that we really should get rid of the ones with obsolete information and those that were written in old kana orthography which is difficult to read.
Sadako Kazue pacified me (laughs). It took some courage, but we did it.
Kazue But even when we let some books go, more come in. We have more books in total than before we started sorting them. I guess people see the variety here and think "I have something that would suit their selection", and many locals started donating all kinds of hardbacks and paperbacks.
Sadako After organizing some cleaning workshops and continuing to take care of the collection you notice they start to shine. I was quite surprised. When you look at these revived books, you feel motivated. You want to take them out to meet the world.
I love seeing tiny traces of people being here

I see a lot of children's books here, too.
Kazue Because this is a community center, small children and their parents regularly come here for infant health checkups.
So, we thought it was a good idea for parents to be able to borrow as many children's novels as they want. Some parents say they don't read much themselves but they do agree that reading with kids is important. We focused first on collecting novels for children because it's essential to provide an environment for the enjoyment of reading from an early age.
We placed some picture books upstairs in the waiting area for the health checkups and we change the display each time to introduce different stories. We try to present them carefully and in a way that parents and children can feel that "Hon no Hiroba" is a friendly and fun place to be.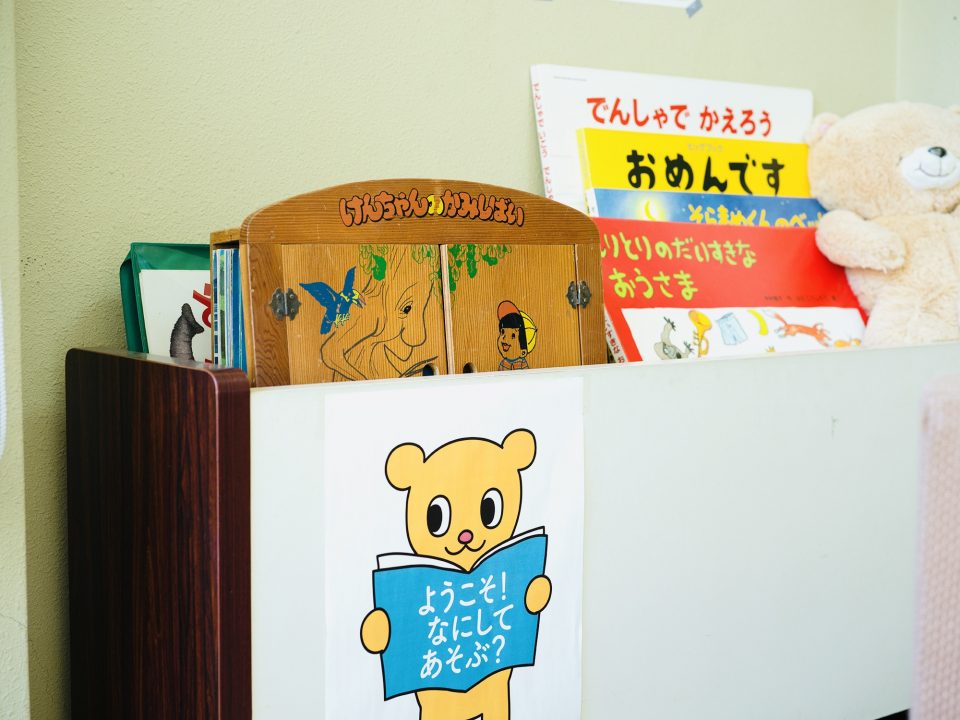 Sadako The fact that we are also a member of a health promotion organization that supports both maternal and pediatric health helps a lot.
What was the next step?
Kazue In the first 3 years, we rarely saw visitors in the library. But we knew it was crucial to keep going so we continued getting more books, changing the displays every so often and cleaning the place. I think it was from the 4th year, that we noticed there were quite a few people visiting us regularly. We felt that "Hon no Hiroba" was being recognized more and more.
Sadako Every time I come to the library, I see that some things have moved around and there are signs that somebody had been playing with toys while we were away from the office on weekends. I love seeing these tiny traces of people being here.
So, the library is being used even when you two aren't around.
Kazue We can't afford to have a full-time worker exclusively for the library, but luckily this is part of the community center so it's open every day and somebody is always around to help. It works perfectly for us to take care of the library and to also be there at the checkout desk in our spare time.
We furnished this place almost for free. These shelves were always here and we got given these Kotatsu (a low table with a built-in electronic heater), desks and chairs. It took us 5 years to transform this place into the way it looks now.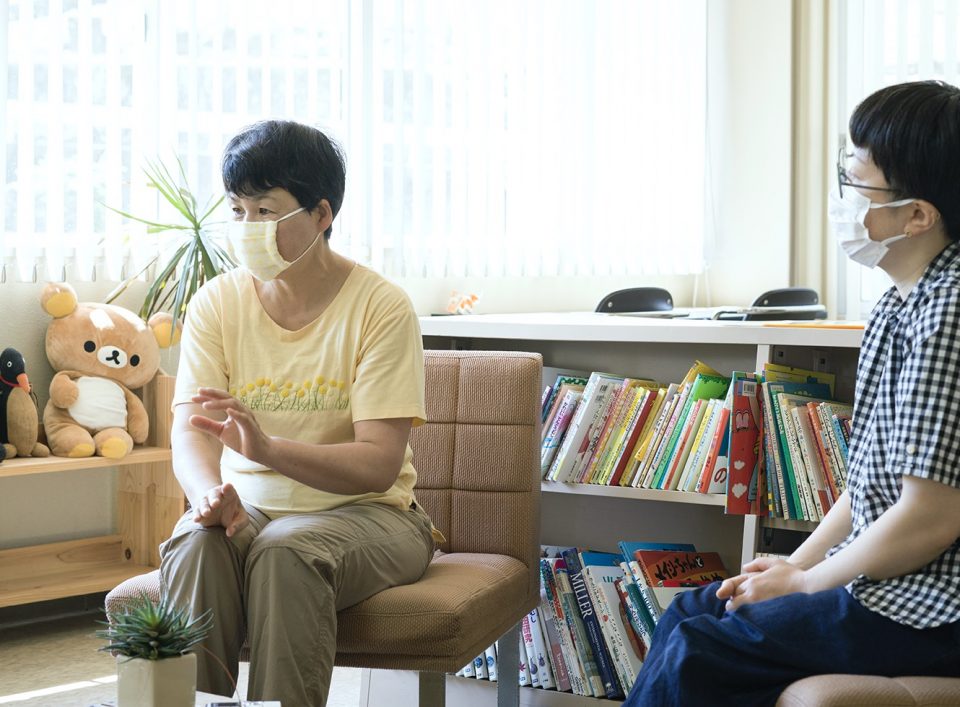 Sadako Kazue decorated the room with origami.
Kazue We took advice from Tokushima Prefectural Library to keep this space kid-friendly. It's like what you see in nurseries. Simple things but kids love pretty decorations.
We were told that if we take care of the place, it makes people want to be here.
Sadako We learned that people would come here steadily and books started to travel to different homes after following their advice.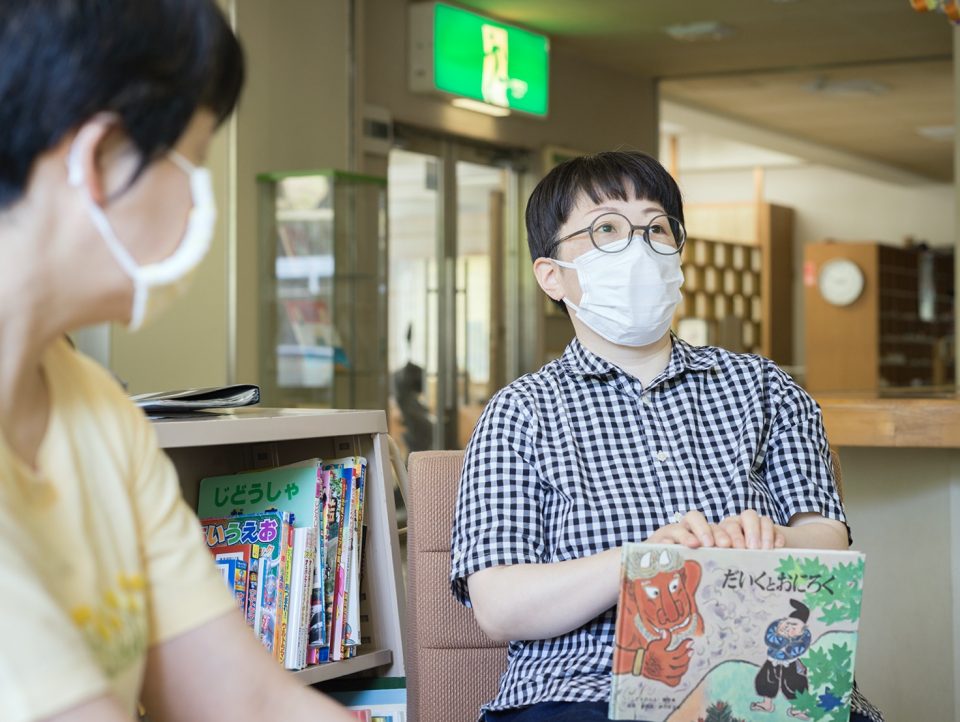 Kazue Sadako loves books. She treats them like people. Ryosuke loves libraries. His major was in librarianship and information science so he finds this project fascinating, particularly since there are no other public libraries in this area.
I'm interested in the roles of libraries and organizing knowledge and information. So, I took a course to become a certified librarian. I didn't expect that I could make use of it in this way.
Sadako Well, we have our own reasons.
Kazue Each one of us has a personal soft spot for this project and at the same time we can contribute something to society.
Sadako We also try to fulfill the purpose for Green Valley and BOE. Our patience and toughness opened up new possibilities and lead us to the new site in the former Hirono elementary school building.
"Hon no Hiroba" started appearing in children's diaries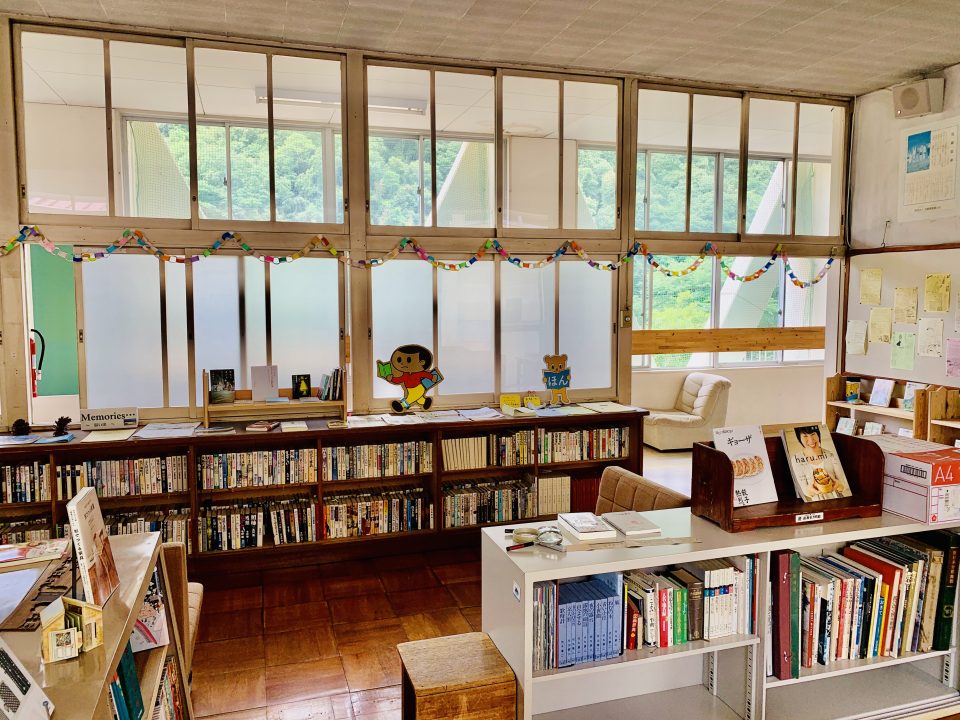 Tell us about "Coffee & Hon no Hiroba" in Hirono.
Kazue From the 5th year, Takako Chiyoda from Mamechiyo Coffee Roastery of Kamiyama joined our team. We talked about how nice it would be to spend some quality time reading with a nice cup of coffee. So, we organized a monthly event named "Coffee & Hon no Hiroba". It's been great fun.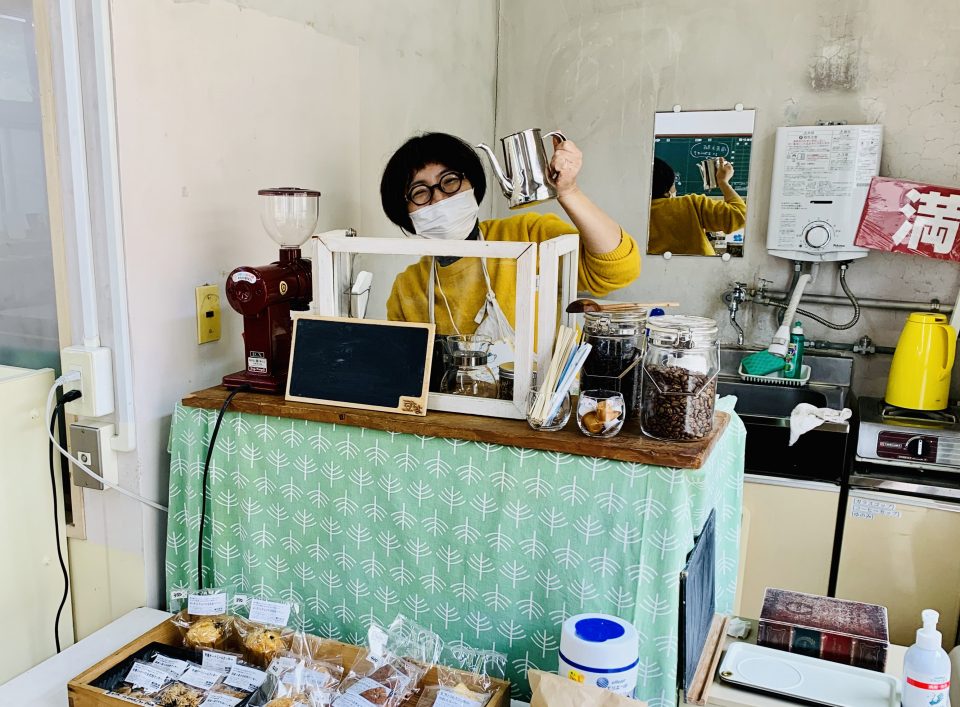 People who don't usually visit us started to show up. Of course, we recommend interesting books to everyone so they would sit down to read with a cup of coffee.
Sadako They seem to be surprised to see the variety we have here.
Kazue Soon the Kaizen community center became too cramped to continue this event.
At the same time, Akuigawa Common opened in the same Jinryo area. They're financially supported by Kamiyama Town Office to buy new books for checking out. In that case, we thought we should maybe relocate to a different area where people don't have easy access to books. Then the idea of utilizing the former Hirono elementary school building emerged. We took the idea to the BOE and it all worked out.
We moved most of our collection to Hirono this April. We wanted to make the new place comfortable for people from the area so now "Coffee and Hon no Hiroba" takes place in Hirono every weekend.
Then apparently the name "Hon no Hiroba" started appearing in children's diaries. They go something like "I went to Hon no Hiroba". When we heard about this, it made us so happy.
If children want to visit us, they need to be brought by their parents. Some kids are away taking lessons on weekends or their parents are not available to give them a ride so we are grateful that our little visitors spend their precious time here. We at "Hon no Hiroba" want to work hard to make it a special place for them to visit.
We only started recently in Hirono and considering the current situation with COVID-19 and other factors we cannot be open every weekend but we are hoping to slowly build this place into a welcoming and comfortable place for everyone.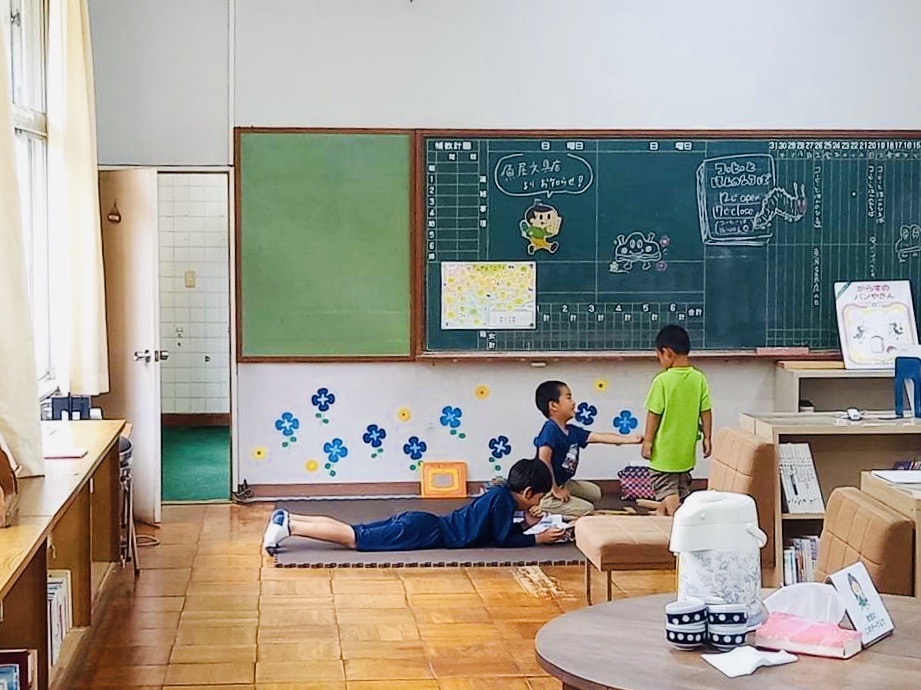 Sadako As they say, two heads are better than one. We have different ways of thinking but when it comes to books, we are looking in the same direction. "Okay then let's do this and that" and then we can move forward.
Kazue We have become stronger as a team over the years. This experience helped us when we relocated to Hirono. It worked quite well. Maybe this was because we had no money and we didn't rush it because we only had what we had at that time. We anticipated that "Hon no Hiroba" would be slowly shaped by ourselves, together with all our visitors. The plan was reasonable.
We didn't want this project to be a burden. That was the most important thing. We know we won't last long if it's a pain for us to continue.
What do you want for "Hon no Hiroba" in the future?
Kazue It's our mission to improve the reading environment in Kamiyama through this project. So, whatever we do, we want to make sure that it will allow us to serve this purpose.
Sadako Persistence will always pay off. We are working diligently to create something. It's like the way a book begins.
Kazue We hope our library is a fun place to spend time and that it can invigorate peoples everyday lives. I'm also thinking about using this place as a learning center in the evening. If we can organize some casual learning activities for people who are hungry for knowledge, it would be interesting.
Sadako It's always nice to expand your knowledge, isn't it? It could be something new you discover in Kamiyama or from the people here, I don't know. I also want to do something for children to help them take interest in reading a little bit more. I hope that "Hon no Hiroba" is a way to encourage them to explore the wonderful world of books.
Kazue I would like to spend more quality time together with children who visit "Hon no Hiroba" and take care of each one of them. This could also mean watching over local children. And you never know, they might become my lifelong friends.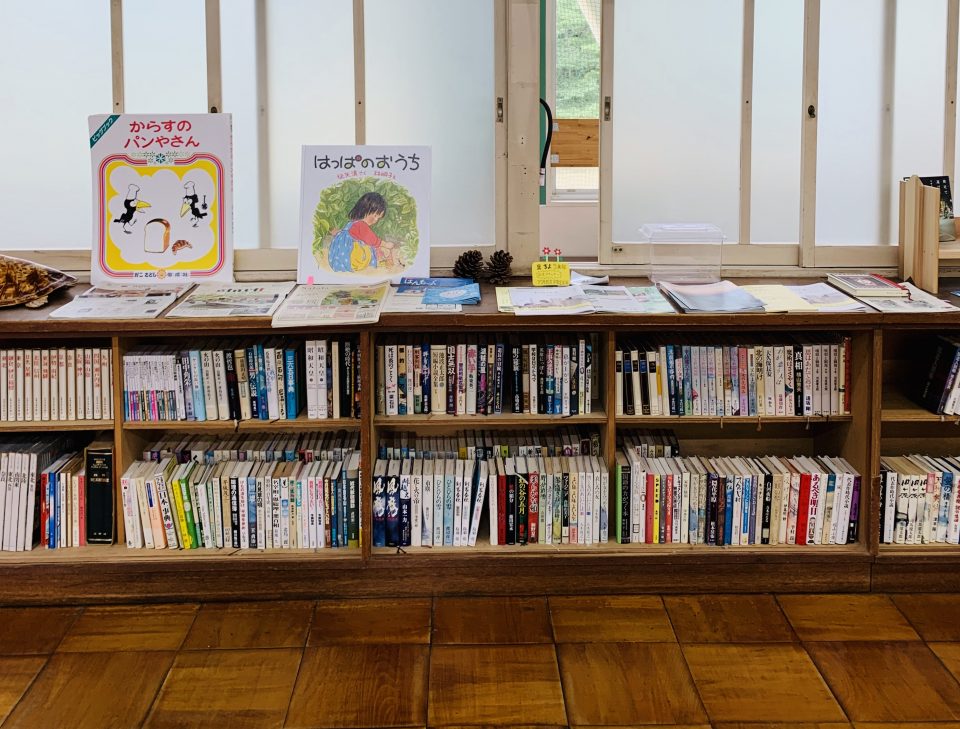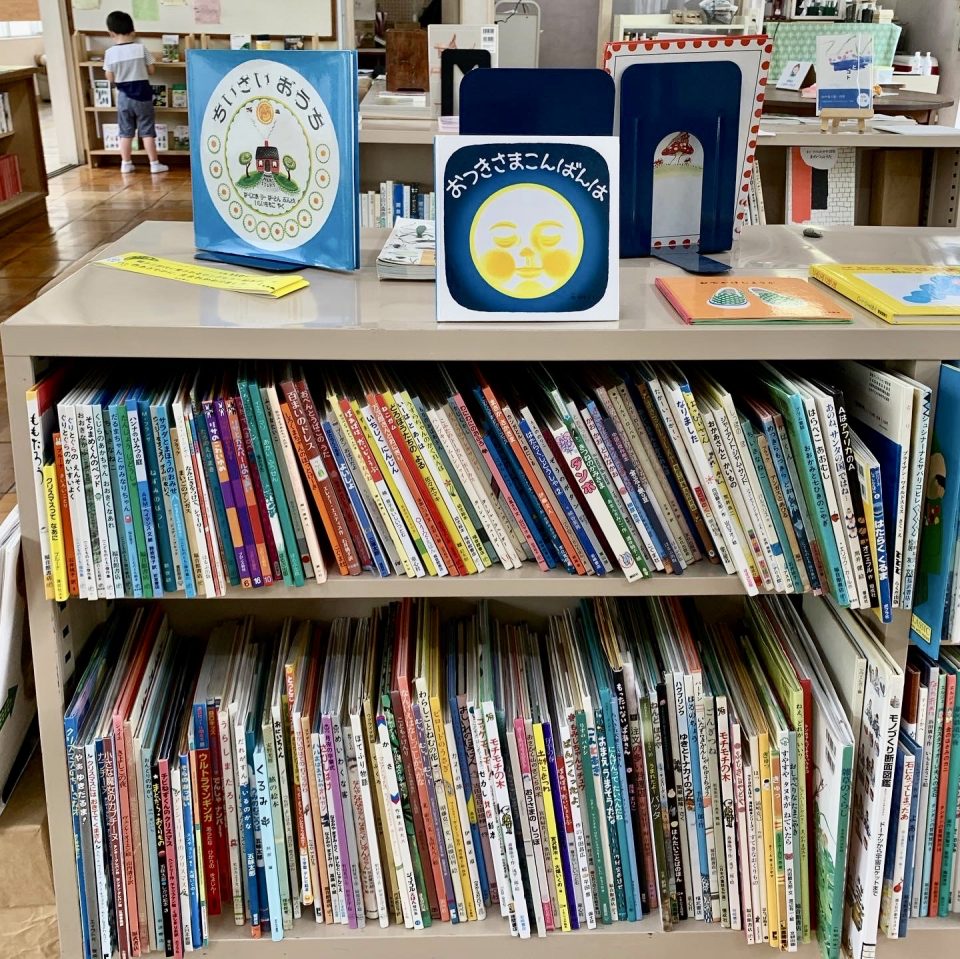 Interview: June 10, 2021
Interviewer: Chigusa Akiyama,
Text: Itsumodoori
Photography: Nao Kondo, Masataka Namazu, Masahiko Kanemura
Production cooperation: Eri Itoi, Yoshiaki Nishimura
Planning and production: Kamiyama Tsunagu Corporation