Vol.02
Holidays, weekends
and after school for children
How do children spend their after school, weekend
and holiday time in this town?
Do children spend their spare time with the adults in Kamiyama?
Episode 5
Mikke Trail Club
October 18, 2021 release
Join "Mikke Trail Club" every Monday after school at Akuigawa Common for trail running and to enjoy the beauty of nature around Oawayama mountain. Naoki Ueta and Mio Matsuoka accompany children on their run through the natural landscape of Kamiyama.
I spoke to Naoki who ran in the toughest desert marathon and Mio who worked for an international NGO abroad and asked how they feel about their trail running club.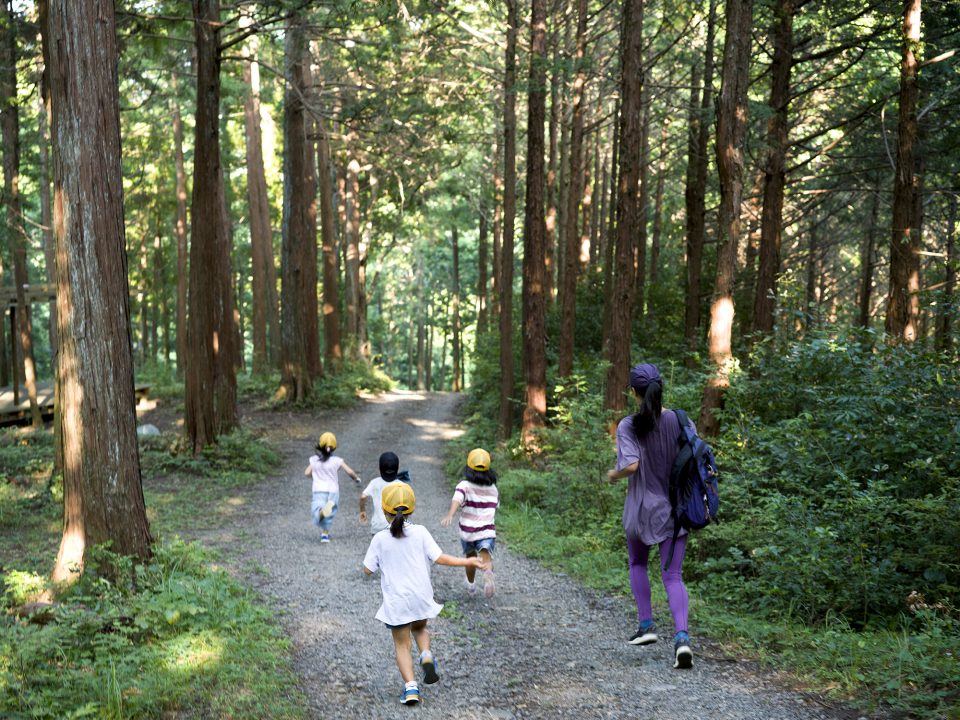 To become a part of children's everyday life

Please tell us about yourself and what brought you to Kamiyama.
Naoki I was born in Hokkaido. For 10 years, while based in Yamaguchi prefecture and south-west Japan I traveled around working as a tour guide and organizing events.
I have several reasons why I moved here: I always wanted to live somewhere with clear water, a fortune teller told my wife that we should move to Kamiyama (laughs), I knew this unique person from Kamiyama, and I was always interested in learning about rural community revitalization. All these things added up and we decided to relocate here.
Mio I'm from Tokyo. After finishing my master's degree, I worked for an NGO related to international cooperation in Pakistan. I first came across permaculture when I moved back to Tokyo and it got me thinking about moving somewhere with clear water to start a casual, self-sufficient lifestyle.
Coincidentally, I had a chance to visit Kamiyama and met a lot of interesting people. Also, my partner knew this place and already had a few friends here so we decided to move.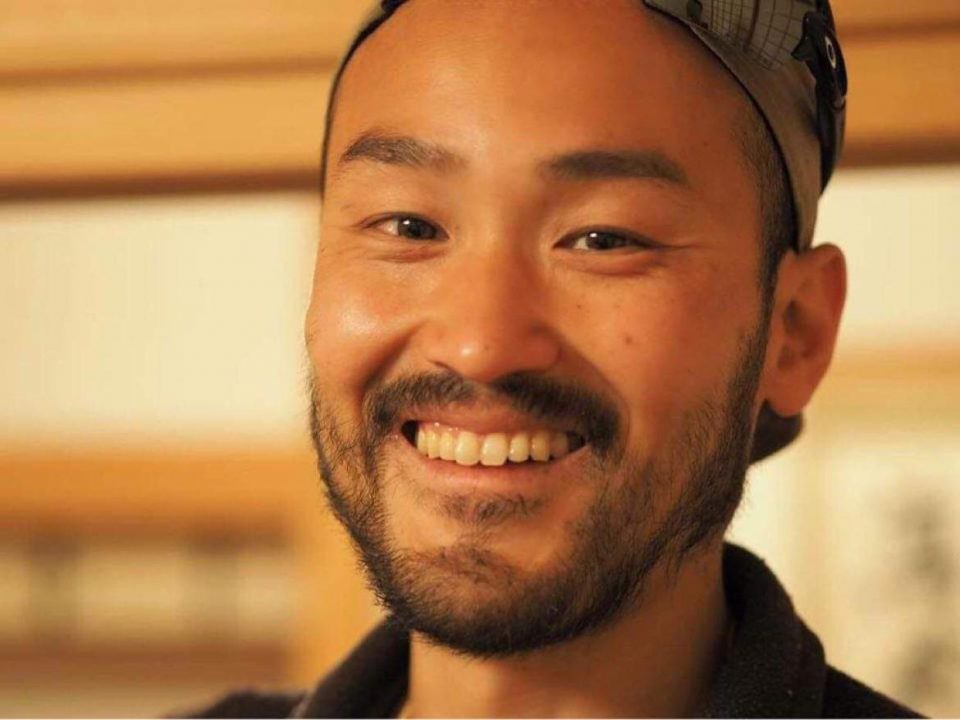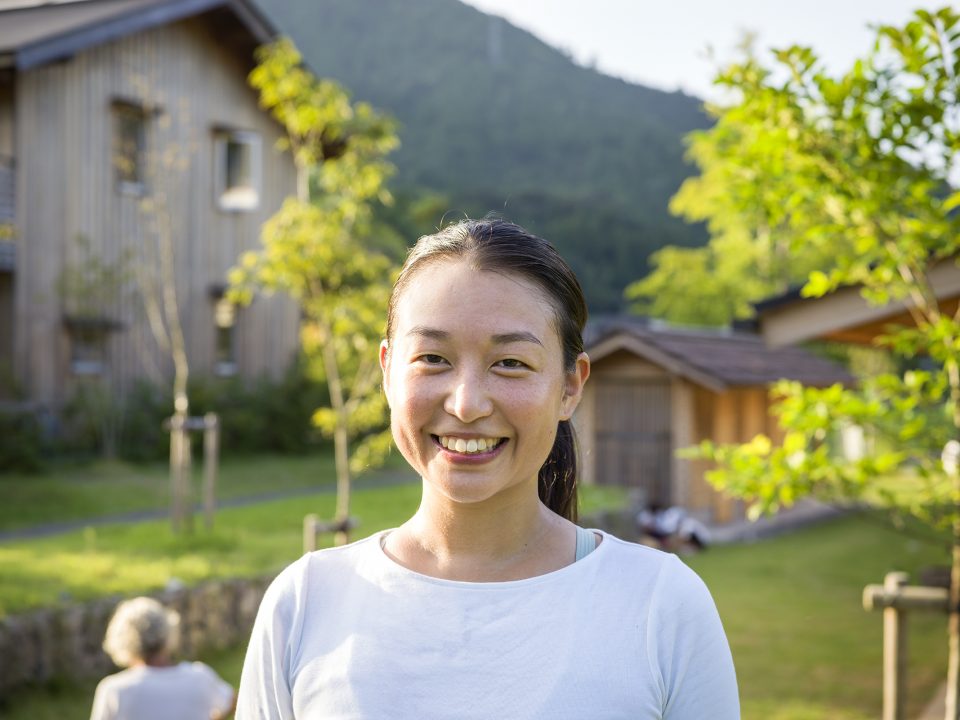 What were you two like as children?
Naoki I used to play sumo wrestling and baseball with my father a lot. Once I became a sumo champion of Hokkaido (laughs). I lived in Sapporo, Hokkaido where half of the city is quite urban and the rest is covered by unspoiled nature. I spent a lot of time in nature as a child.
Mio I went to four different elementary schools in Okinawa, Ishikawa, Tokyo and Chiba. In Okinawa, my house was right in front of a beach, and in Ishikawa my school was in the middle of a forest. In between lessons, I used to sneak out of school to dig out some bamboo shoots or pick different kinds of wild berries. I remember I had a lot of freedom to do whatever I wanted. It was wonderful.
Naoki My life was comfortable and I had so much fun but it made me think a lot when I traveled around the world as a grown up. The most unforgettable conversation I had was when some locals asked me about my "identity". I never thought about such a thing in my life until that moment.
From then on, I consciously tried to learn about precious skills or knowledge that have been passed down for generations, and which can easily be neglected in modern society.
You two have gone through a lot of experiences but why trail running now?
Mio I was always curious about starting a learning program with children in nature before I knew about Kamiyama. After moving into this town, I discovered that everything I need is already here, in nature. I couldn't think of any better place to start.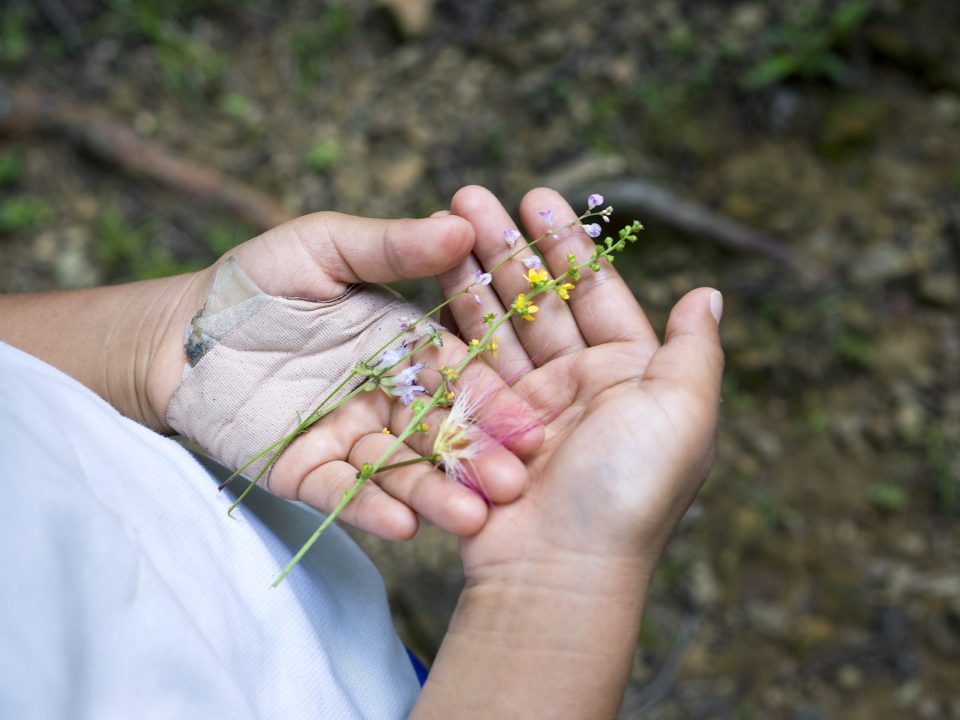 For the first few times, I organized one-off events on weekends. But this was like a special experience for kids to release the excess energy they reserved during school time. It made me realize though that I would rather this activity became a part of their everyday lives. So, I thought that after school hours would work better for them.
I didn't know anyone other than Ranbou (Naoki's nickname) who was into running. I got in touch with him without knowing he'd actually run a marathon in the desert.
Naoki Hahaha.
Mio I didn't hear back from him for a while, though. In fact, it took us a long time before we first went to Oawayama mountain together.
How did you feel when Mio contacted you?
Naoki I was thrilled to bits.
Mio Liar (laughs).
Naoki I met Mio about a year before we started this trail running club together. Back then she had already told me about her idea to create an interesting opportunity for children.
I also had an idea about starting an alternative childcare program focused on natural nursing methods with other parents in Kamiyama. But we haven't managed to do anything about it yet as we have been caught up in other things for a few years now. So, when she told me her plan, I got really excited.
I run marathons but I mean, I'm no athlete. We teamed up with some other amateur runners and signed up for the world's most extreme marathon "The Atacama crossing" in the Atacama Desert in Chile.
You have to complete a 250km running race in a week at an altitude of 3,200m. The race organizers only provided us with drinking water so you had to carry your own 7 days' worth of necessary goods.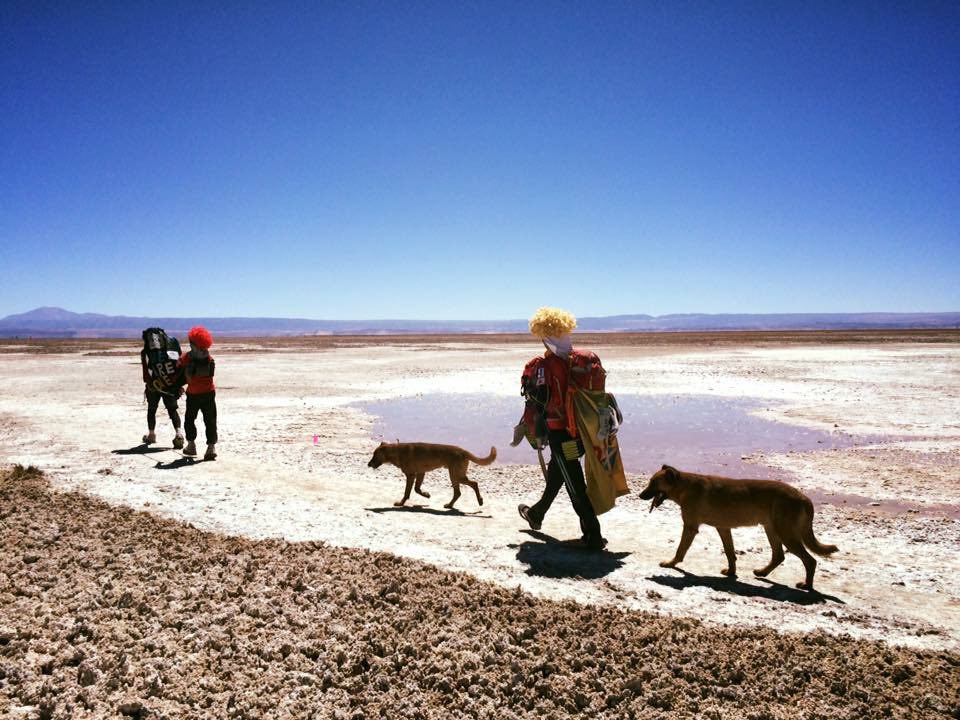 We were inexperienced and running as slow as turtles. But actually, it allowed us to win. We made it just in time for each check point but because we took it so easy, we all managed to finish the marathon. And the other teams who were far ahead of us somehow all withdrew so it turned out that we actually finished as No.1. After we got back to Japan, we raised some money through crowdfunding to make a film about us doing the Atacama crossing.
I was chatting to my team mate earlier that we want to contribute something to society by sharing our personal challenges. I was so glad that we took on the challenge of the desert marathon. I'd really love to pass on my experience to kids.
Lead them into the unknown world

How long has it been since you started Mikke Trail Club?
Mio It's only been a few months. It was last November we put on the first trial event and we've been running regularly since March of this year. I think the children are having great fun and also it is invigorating for the grown-ups too.
It's so simple, we just run in nature but it feels so good running around Oawayama and the kids always find something new each time.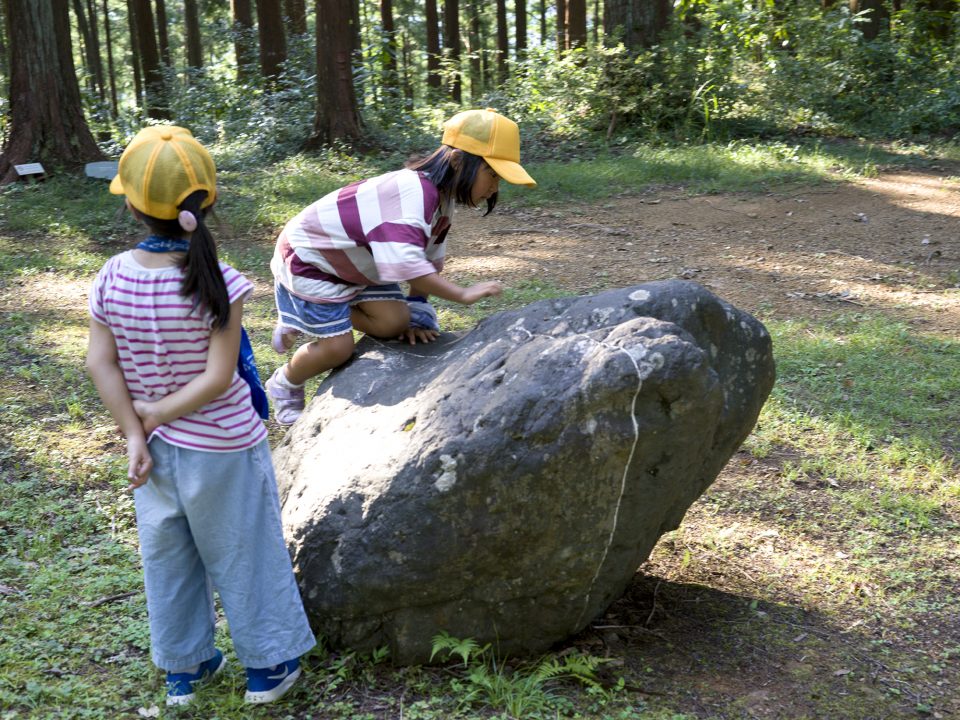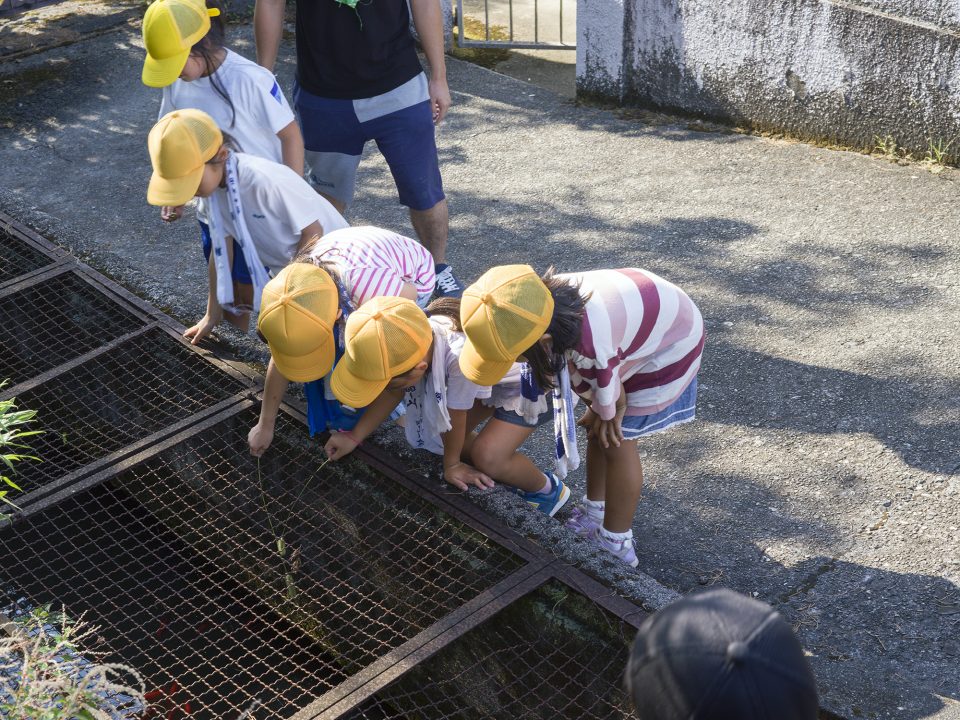 Naoki Yeah, it's great. I don't know why trail running activities don't already exist.
Mio For each run, we have a theme which I think is working quite well. When the kids try to relate what they see in front of them to the theme, they can imagine a whole different world.
On the day of the summer solstice, I asked them who would be the happiest absorbing the energy from the sun. One of the kids held a leaf in her hand and told me that it felt like the energy is in here. I saw another kid running only in the shadows, avoiding any sunlight.
It fills my heart with happiness listening to their thoughts.
Naoki I'm sure that every kid wants to find the answer if you ask them a question and that is the way to lead them into the unknown world.
The first theme we had was "How to keep running without getting tired". And the second one was "Let's find wild food".
Mio Each time I ask them different questions about their body and their connection to the earth. Being out in nature, they can find many solutions. And because they know any answer is right, they are comfortable describing their feelings.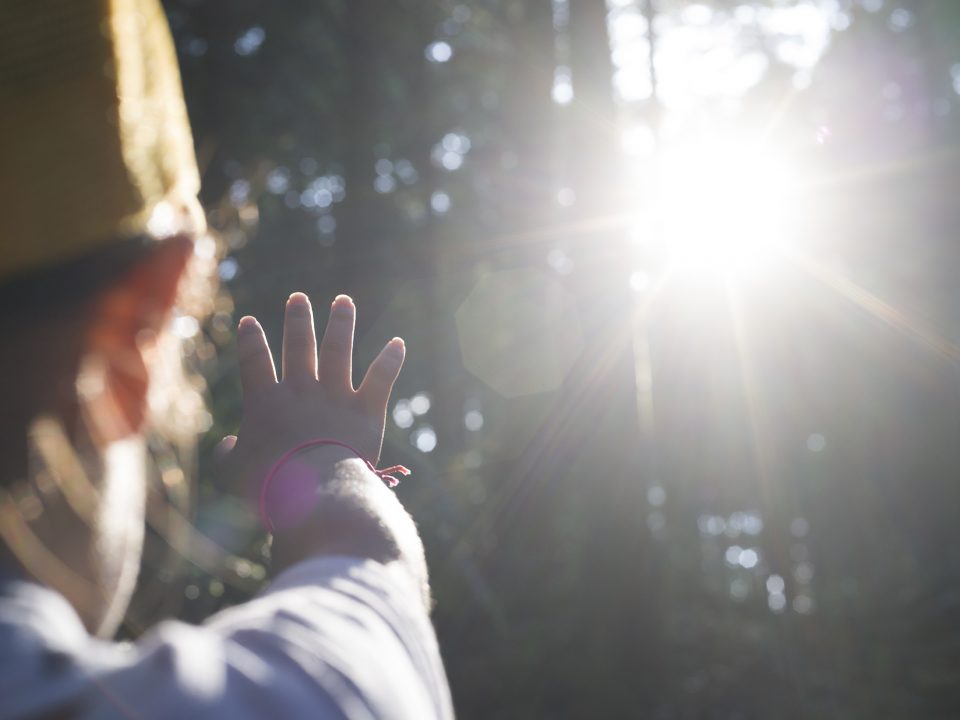 It's really important for children to sense the sun moving above their heads and see the water flowing in the river where they can have fun and experience the pleasures of nature in a beautiful environment. I believe it will provide them with the motivation to face various environmental issues when they grow up.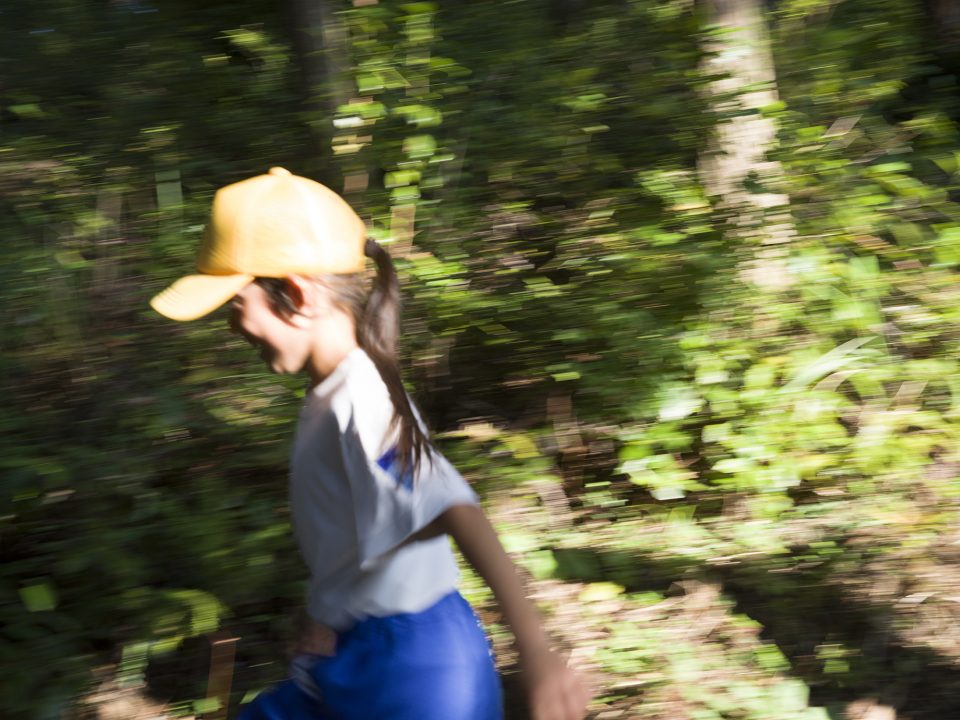 Naoki Kids love running around.
Mio We get worn-out. That long set of stone steps up to the shrine is especially tough.
What kind of route do you take?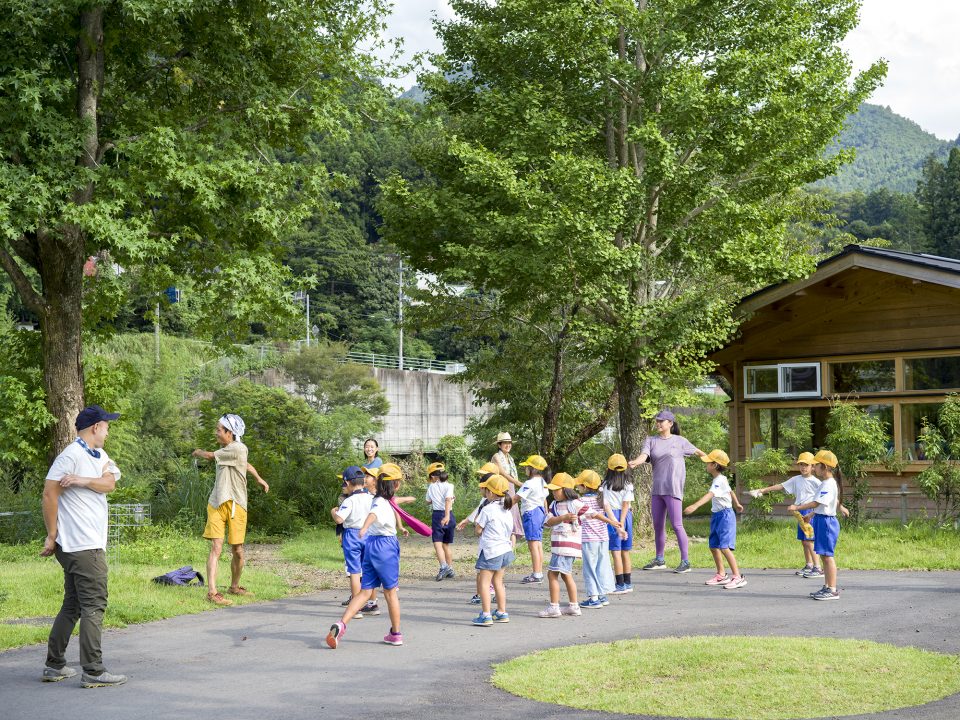 Mio First off, we meet up at Akuigawa Common and start warming up. Then we go up the stone stairs to Oawayama shrine and head towards the Art Walk (Oawayama Art Walk is maintained by Kamiyama Artist in Residence with 17 art works along the way). There we split into two groups and either take a detour route running past Cocoshika dental clinic or just run back through the cherry tree park to Akuigawa Common.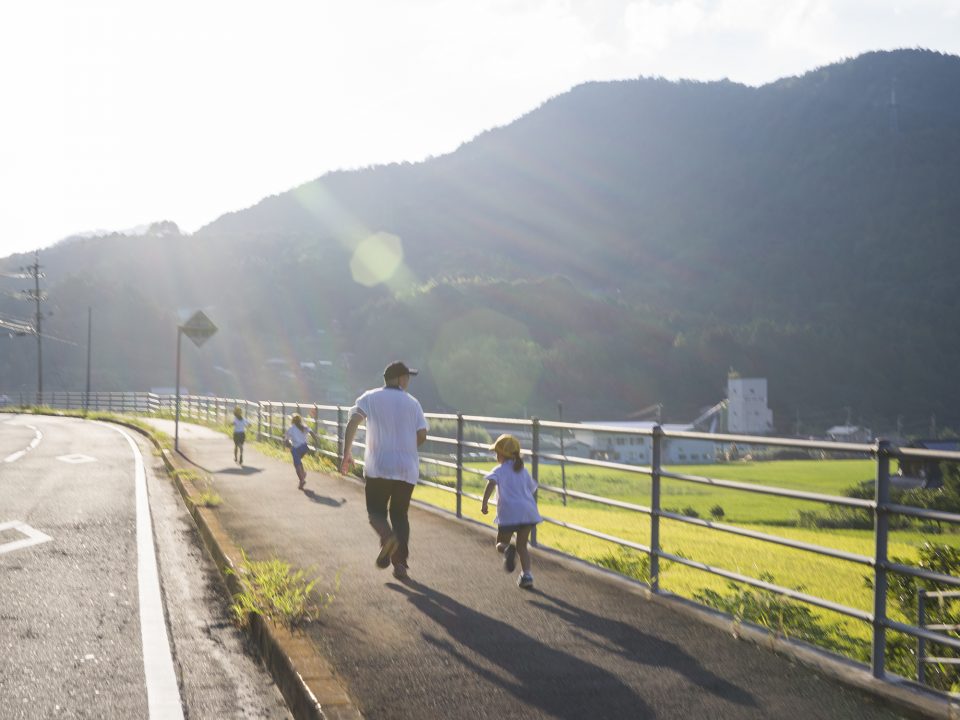 Naoki The course is roughly about 3 to 4 km long. If the children could run this distance comfortably, it would open up many possibilities in their lives.
Mio It's not like running on the pavement. It's bumpy with tree roots and pebbles sometimes covered with fallen leaves which makes it too slippery to climb up the hill and run for the full 3 to 4 km.
Naoki So Kids can learn the ability of their own body through running. / Then they will be able to develop good judgement on their own body through running the course. The children become aware of the own physical abilities and limits by running the course. After the run you feel lifted and also your body feels light. I think the whole experience will give them confidence, don't you agree? It's great to share these moment with your friends too.
Mio Usually most people get around by car. But understanding your body's potential gives you satisfaction and empowers you to live your own life.
Naoki Even though we are in the countryside, a lot of people enjoy playing computer games. I think there are many kids who don't have a chance to appreciate the nature around them.
Playing in rivers and mountains used to be very natural but now, I'm not sure if it even crosses their minds to go out in the wild and play. I think we, the Mikke Trail Club, managed to give kids an opportunity to value what's around them. When we started, we wanted to do it for fun but now I feel like it's growing to be multifaceted project.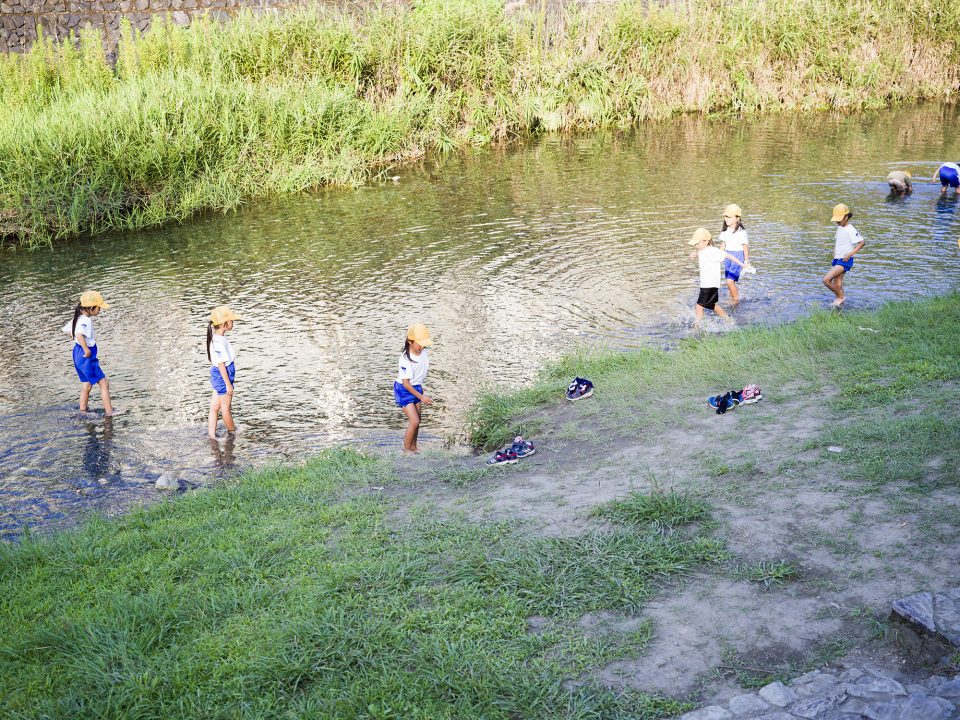 How many children come to the club?
Mio We have 15 children who are regular members. There are 3 kids from the 1st grade, and the rest are all in the 2nd grade. Mostly girls. Up until the 3rd grade students have enough time after school to join our club.
Naoki You never know, we might have like 40 kids running with us before we know it.
Mio Well, I'm up for that (laughs).
I want to nurture them as 'our children'

What is your plan for "Mikke Trail Club" for the future?
Naoki I'm thinking maybe it would be nice to do something different for each season. We can go and swim in the river when it's hot or we can try and learn something the locals used to do when they were children.
I also think it's essential that we enjoy ourselves too. I want to find a way for both us and children to have fun.
Mio Like dipping in the Kamiyama Onsen (hot spring) after the run.
Naoki There's nothing like the Onsen after a run. It's a treat (laughs).
Mio I would like more grown-ups to get involved in the club. Normally it's just the two of us but sometimes Ranbou is away so I'd love it if there were more adults to run with us.
The other day we had a local hairdresser and an architect from France join us. The kids were curious about what they do and asked many questions. Even though they didn't speak the same language, they seemed to understand each other. I think it's such a wonderful thing to get to know different cultures while running in nature.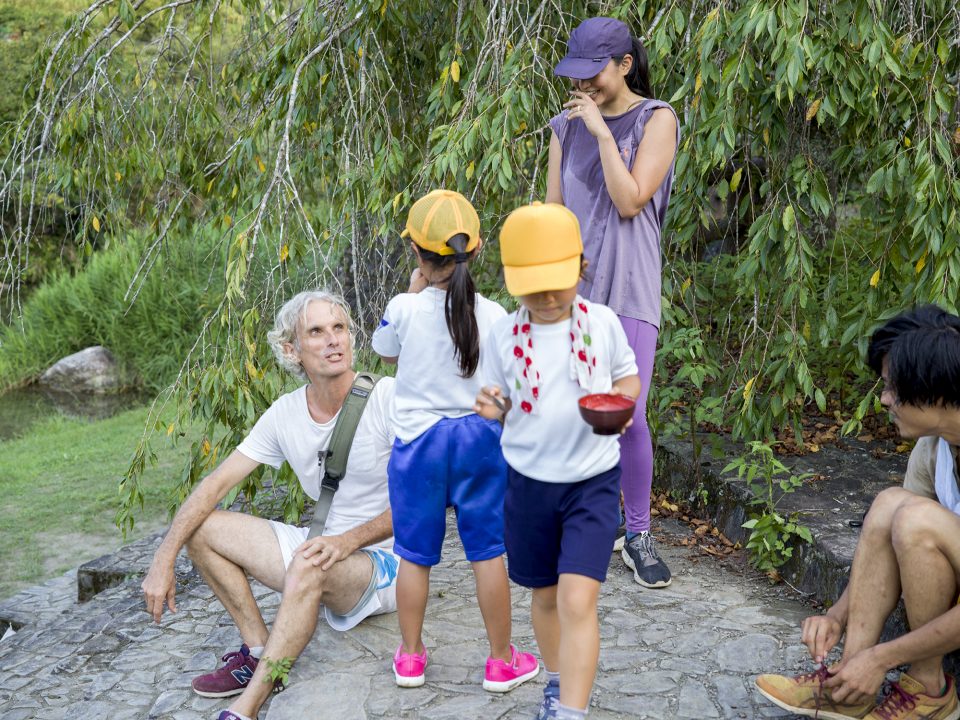 I'm sure there are a lot of interesting people around here. It doesn't matter if running isn't your thing, anybody is welcome to join in.
Naoki Actually we don't run all the way. Sometimes, we just chat while walking and then start running again, and later on, we slow down and walk again.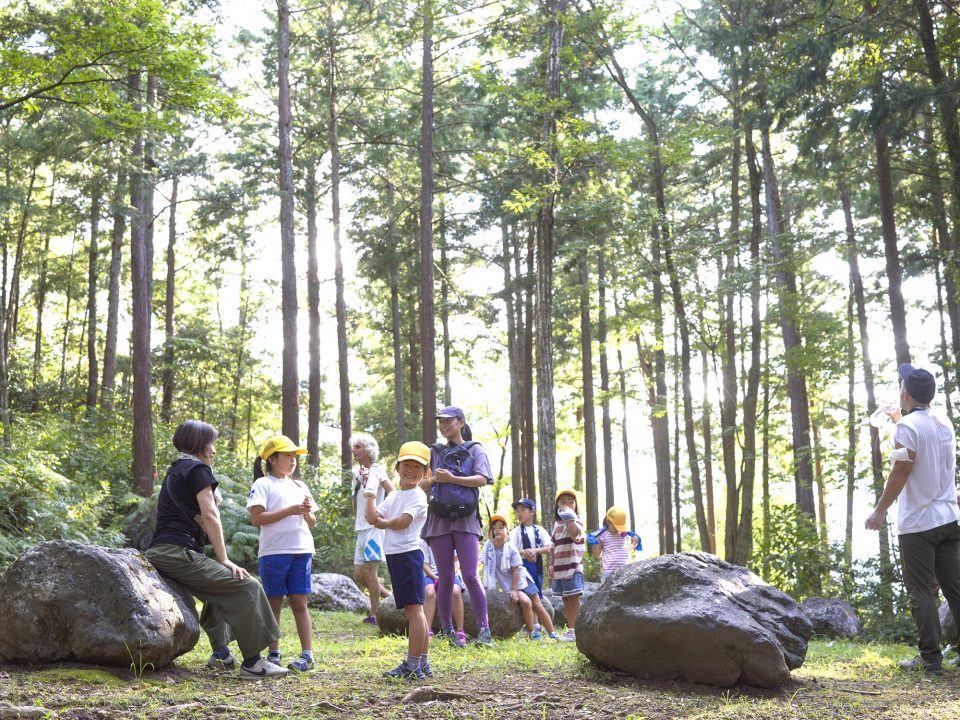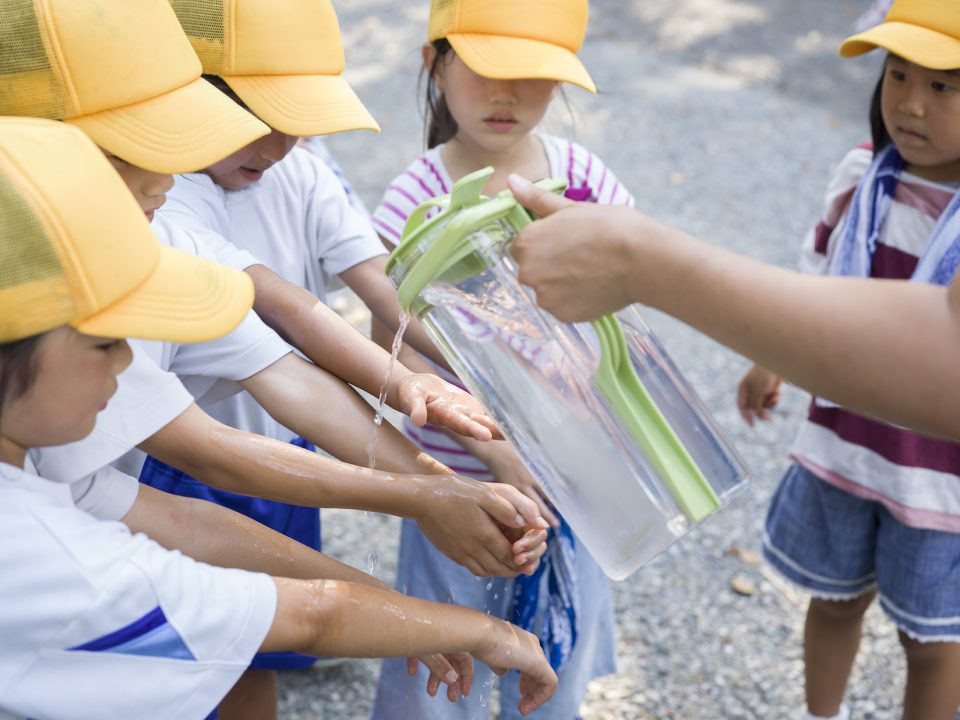 Mio If many different adults join us, it will create a feeling that all the children are 'our children'. Kids can also learn about different ways of thinking from the grown-ups, which is fantastic.
I don't have kids myself but I always wanted to support and take part in childcare. This is the perfect field to do so and hopefully, other people see it in the same way and enjoy it too.
Naoki I'd love to explore new running routes outside the Jinryo area. I'm pretty sure there are plenty of them. I must get on with searching and gathering more information.
Mio We can start with special one-off events in other parts of Kamiyama in long holiday seasons. I really want us to feel that the whole town is our playground.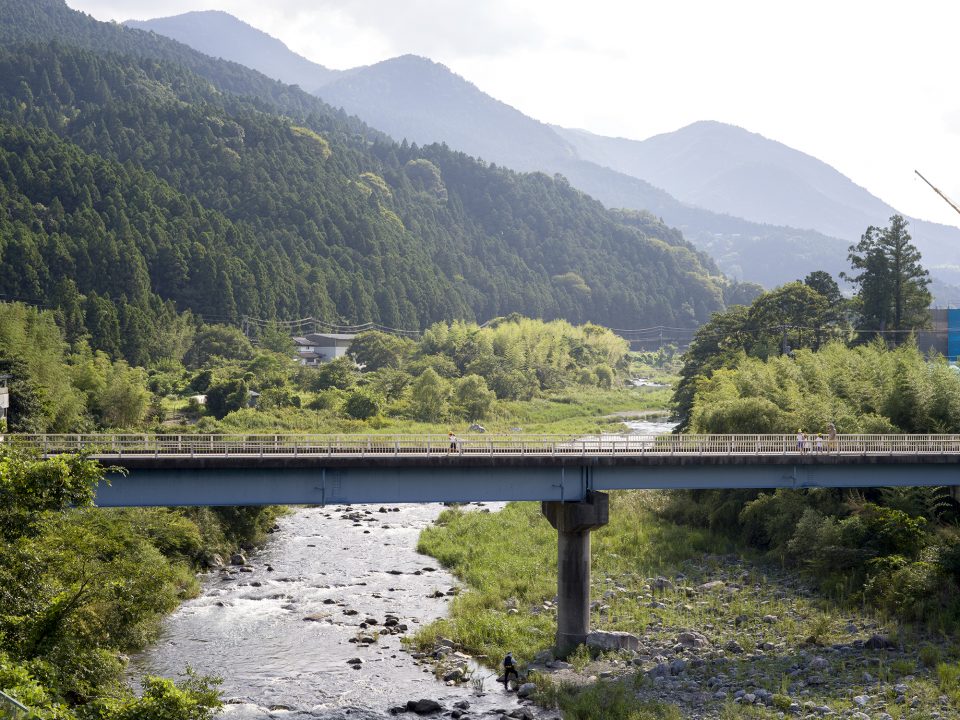 Interview: June 22, 2021
Interviewer: Chigusa Akiyama,
Text: Itsumodoori
Photography: Nao Kondo, Masataka Namazu, Masahiko Kanemura
Production cooperation: Eri Itoi, Yoshiaki Nishimura
Planning and production: Kamiyama Tsunagu Corporation