Kamiyama Artist in Residence
[NEW] Kamiyama Artist in Residence 2022 starts in September 2022!
[!] We are not accepting applications of both KAIR and Bed & Studio program until further notice.
---
The Kamiyama Artist in Residence (KAIR) Program is an independent project organized by volunteers who share the desire to develop art and culture in the town of Kamiyama. The program was established in 1999 to provide selected artists with the opportunity to experience Japanese small-town life while working together with local people on artistic projects. Every year for two months from September to November, three artists are invited to Kamiyama. During their stay, they create artworks which are displayed at an exhibition held in early November. Participating artists also hold workshops with local residents, participate in cultural events, and hold open studio days.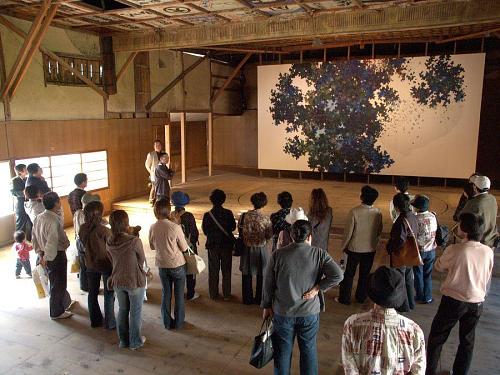 See the KAIR Artist and Artwork List for a detailed list of past participants and works. To read comments from past participating artists, see Reflecting on KAIR. Normally, applications are accepted in winter for upcoming full support KAIR program.
The thing that makes KAIR stand out from other artist in residence programs is the fact that it is handmade by the local people. There are several organizations in Japan which hold artist in residence programs, but the interaction and spirit of mutual cooperation between artists and locals is what makes the KAIR program special. We really enjoy being a part of the creative process.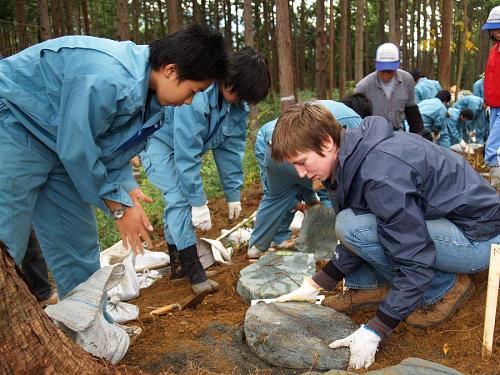 Kamiyama was once a place where ningyo joruri (Japanese traditional puppetry) flourished. A staggering 1,459 fusuma-e (illustrated stage background panels) that were created from the late Edo period up until the Taisho period (the mid-1800s to the early 1900s) remain in Kamiyama today. These panels were made by artists who stayed in the homes of local aristocrats while they worked with the assistance of local people. In other words, in one sense, an artist in residence program has been going on in Kamiyama since the mid-1800s.
View more photos of the Kamiyama Artist in Residence program. (※under construction)
Even if you can't join the residency, why not make an independent AIR to Kamiyama?
We have Bed & Studio program for self funding AIR program.
→ The KAIR Artist and Artwork List (1999- )
→ Reflecting on KAIR / KAIR Artists interview (1999-2005)
→ KAIR Artists interview (2010, 2011, 2013, 2017- )
→ Workshops, Craftspeople, Supply Shops, and Ateliers
→ Kamiyama Artist Yellow Pages
Art related postings;
→ Diaries
→ Events
* Kamiyama photo album is under construction at the moment. Instead, you may find some images of Kamiyama on our flickr account.
→ You can also see by tags (flickr)
【Bed&Studio program】
→ Participated Artists

→ KAIR top