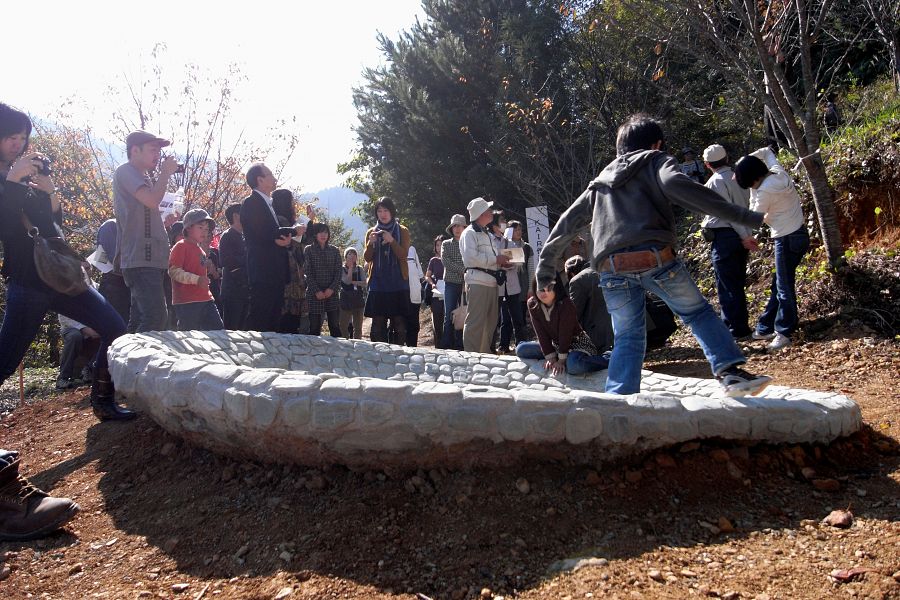 KAIR 2008 Art Tour Report
This year's Kamiyama Artist in Residence final exhibition art tour on Sunday November 2 had the biggest turnout of all time. I think a lot of people found out about the show from this website and I'm so glad we were all able to meet and enjoy the art works together in Kamiyama. (title shot features Karin van der Molen's work, "As it is in Heaven")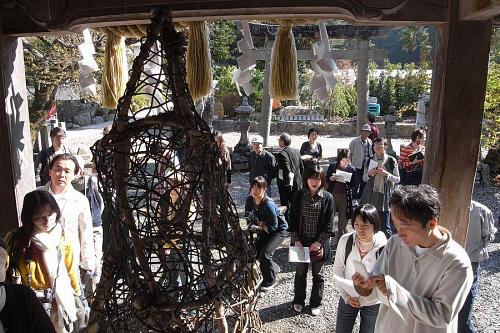 I saw a lot of people using their cameras and cell phones to take pictures of the art works and of their experiences. I hope they will post entries on their blogs so we can read about their reflections on the exhibition too!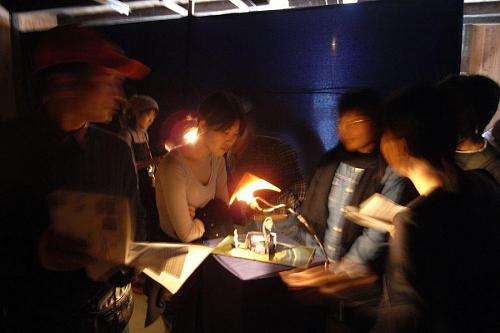 I think the dim, almost candle-like lighting in Andrea Dezsö's exhibition at the Myozai Sake Brewery helped to get people away from trying to take pictures so much and to focus more on enjoying the moment.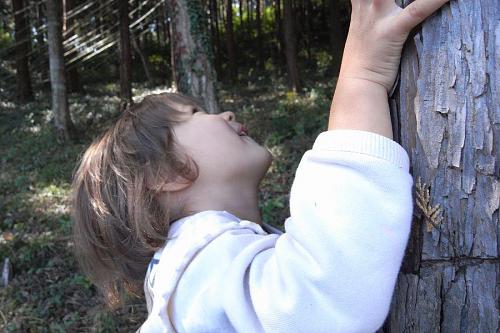 Sofie enjoyed the many opportunities to commune with nature on the tour, and I think the other visitors did too.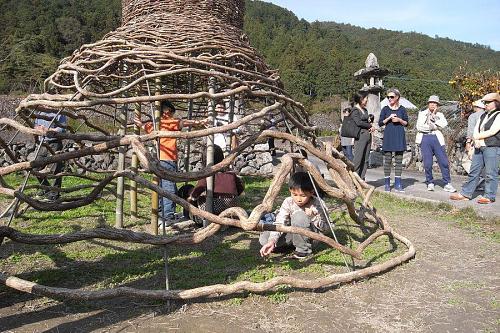 As we viewed Karin's piece, Moon Dome, and the kids in the group began to play inside the sculpture, I heard a member of the group remark on how he'd seen children in New York climbing on sculptures and generally interacting with art on a regular basis and how he thought Japan needed to provide more chances for kids to have that kind of experience.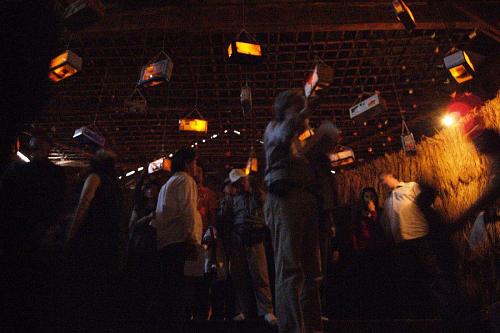 Rika Aki's installation in Yorii-za Theater and her outdoor work as well reminded me of the imaginary worlds we used to make as children, doing things like using the closet as a rocket ship and the space under the table as a secret clubhouse.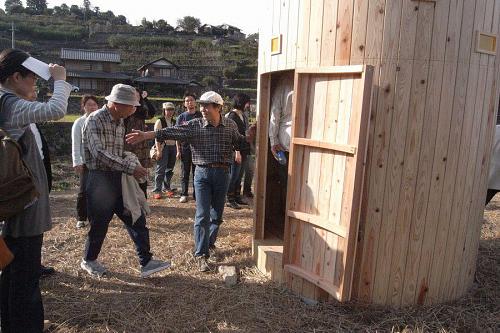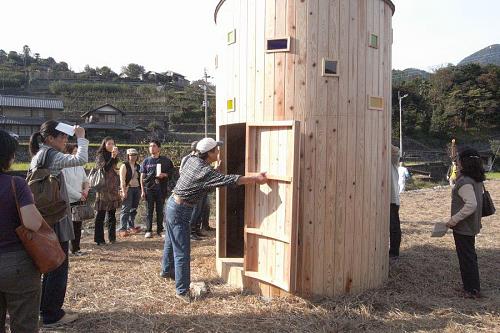 In a time when I find myself increasingly experiencing the world through my computer screen, I am so grateful that I was able to join this year's art tour and enjoy a collective experience with nearly a hundred other people in taking the first taste of the KAIR 2008 final exhibition.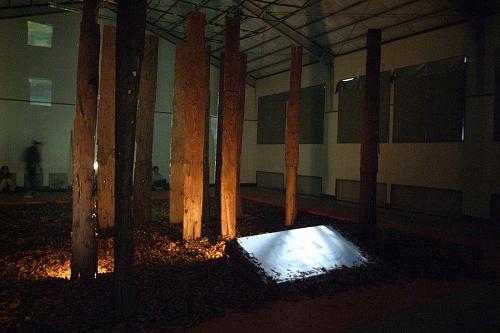 Karin's husband Pat van Boeckel wasn't an official artist in residence but he produced a short film and made a lovely atmospheric installation in the Josei High School martial arts gym (budokan) which took everyone by surprise because there had been no publicity at all about his project. Everyone was very moved by the message of his work and by the rare chance to see Kamiyama through the camera lens of a visitor from overseas.
The KAIR 2008 final exhibition is on until next Sunday, November 9. There are bilingual maps available for free at a special temporary information center stationed at Michi no Eki during the course of the exhibition. There are also some lovely souvenirs for sale in limited quantities including books featuring Andrea Dezsö's work, and a variety of postcard sets.

Claire
Canadian living in Tokushima City. Translator, Interpreter, and Sofie's mom.
Articles by Claire
To comment
"Diary"Latest bulletin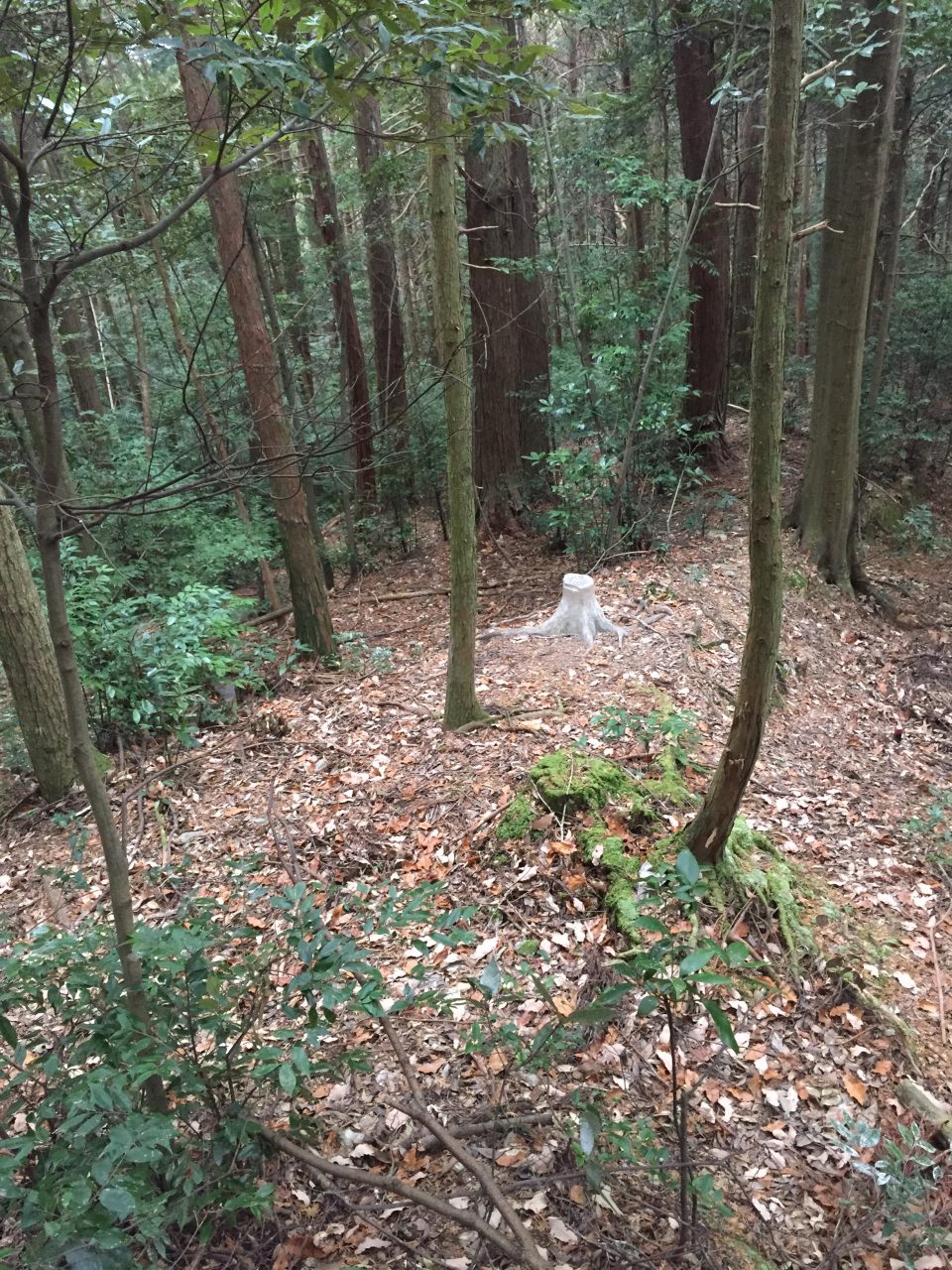 Diary2021/04/05 Diary2020/03/31 Diary2020/03/31
"Diary" archives