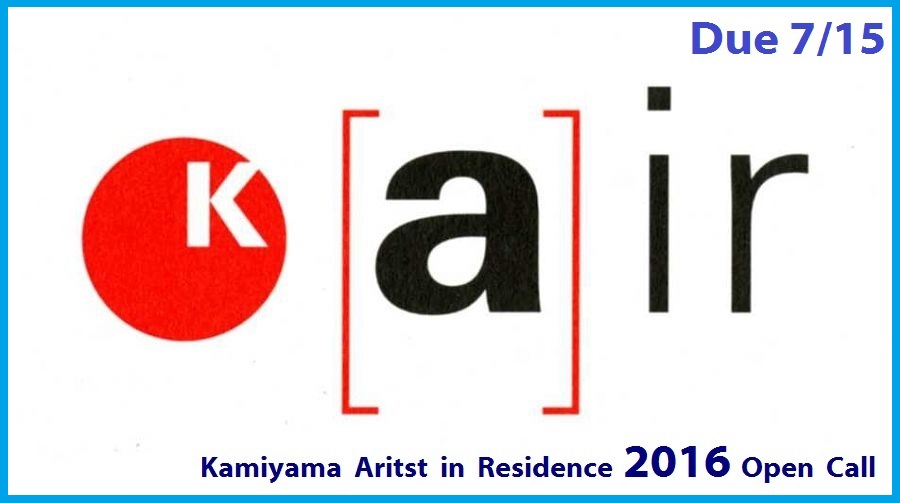 Call for KAIR2016 /due July 15
Please note that the deadline for application is on July 15, 2016.
We are accepting applications for the field of sculptures, installations, and land art.
※ No application fee for this time.
→ Application Guidelines [pdf]
→ Application Procedures [pdf]

→ Application Form [word]
→ Application Form [pdf]
+ + + + + + + + + +
◎ PHILOSOPHY
◎ ORGANIZER
◎ PERIOD OF PROGRAM
◎ NUMBER OF INVITED ARTISTS
◎ APPLICATION REQUIREMENTS
◎ HOW TO APPLY
◎ SCREENING AND NOTIFICATION
◎ SCHEDULE
◎ OBLIGATION ON KAIR AND ARTIST
– Visiting Kamiyama
– Working, Exhibition, and the exchange program
– Living in Kamiyama
– Other
◎ ADMINISTRATION OFFICE
+ + + + + + + +
Creating "Global Kamiyama" is the main purpose behind the KAIR Project. Our hope is that the artists will produce works full of originality, influenced by the experience of spending time amidst the timeless nature of Kamiyama, deep in the Japanese countryside, and inspiration from interacting with the friendly local people. Through the works created by the artists as they come into contact with the tangible and intangible 'God's Mountain' (the meaning of 'Kamiyama'), we hope to be able to discover what impact 'encounters with the unknown' has upon the artists and the community itself.
+ + + + + + + +
Kamiyama Artist in Residence Committee (KAIR)
A Division of Green Valley, Inc. (GVI) : Co-organizer
+ + + + + + + +
August 20 – November 6, 2016
+ + + + + + + +
1 artist
+ + + + + + + +
To apply for the program, the applicant must:
a) be involved with sculpture, installation, land art.
b) be able to be independent and capable of working and living on one's own.
c) be able to produce at least of one piece of art and give a presentation about the work.
d) understand the purpose of one's participation in KAIR, and be able to be present for over 4/5 of the program in Kamiyama.
e) be able to lead community life with other artists on the program and to communicate with local people including the exchange program staff.
f) be able to speak and understand English daily conversation.
g) be in good health.
+ + + + + + + +
Applications are required to submit the documents listed to applytokair@gmail.com by July 15th, 2016. Applicants are also asked to write required documents in either Japanese or English.
→ Application Guidelines [pdf]
→ Application Procedures [pdf]

→ Application Form [word]
→ Application Form [pdf]
+ + + + + + + +
The selection committee of KAIR will strictly screen all applicants. The result of selected artists will be announced on our website( http://www.in-kamiyama.jp/en/art/ ) by July 22, 2016.
* The committee will not inform each applicant of any comments, reviews nor reasons concerning one's application.
+ + + + + + + +
Period of stay : 20 August – 6 November
Guidance : 21 August – 25 August
Open studio : 18 September
Exhibition : 23 October – 3 November
School workshop : 6 Sep. – 2 Oct.
International Food Exchange : in September
* One or two workshops will be scheduled for each artist.
* Dates for schedules may change.
+ + + + + + + +
◎ OBLIGATIONS ON KAIR AND ARTIST
Upon carrying this program out, KAIR and the participating artists agree to the following.
+ + + + + + + +
a) Airfare
KAIR will pay the following travel expenses:
[OVERSEAS RESIDENT] A one time round trip economy class airfare between the airport that is nearest to artist's home and Osaka Kansai International Airport (KIX) (payable up to 150,000JPY). Travel by limousine bus from KIX to Tokushima station will also be included in funds KAIR will pay. KAIR will provide ground transportation from Tokushima station to Kamiyama.
[DOMESTIC RESIDENT] One time round trip economy class airfare, railway or bus fare to Tokushima (payable up to 75,000JPY). KAIR will provide ground transportation from Tokushima airport or Tokushima station to Kamiyama.
* The Artist must pay the expense for the transportation of goods or materials.
b) Visa
The Artist must make arrangements for a visa with which they may enter Japan, if necessary. Please enquire at the Japanese Embassy in your country.
+ + + + + + + +
2) WORKING, EXHIBITION (PRESENTATION) AND THE EXCHANGE PROGRAM
a) Activities
The artist must participate in the presentation and in the exchange program during the period.
b) Material allowance
The KAIR will provide actual expenses as material allowance up to 250,000JPY. If it exceeds this limit, the artist must pay the difference.
c) Studio
Studio space are available in town. (Old pre-school building, old theater building, others upon discussion)
d) Exhibition
-Each exhibition place must be decided by the exhibition director and the artist after due consultation.
-In principle, the artist should exhibit one's work by oneself and care and maintain one's own work by oneself during the exhibition.
-KAIR will provide materials for the presentation (panels, projector, etc)for the audience.
e) Exchange Programs
The Artist must participate in the following exchange programs.
– Open studio
– Art tour (the first day of exhibition week)
– Lecture or workshop at school (both are possible)
KAIR will provide materials for the exchange programs.
+ + + + + + + +
a) Living Allowance
KAIR will provide the living cost of 150,000JPY during the period of stay for the Artist. However, in case of late arrival to KAIR or early departure, the living allowance will be reduced in proportion.
KAIR will pay living costs such as electricity, gas, water, etc. and also provide necessary daily housekeeping items.
b) Accommodation
KAIR will provide one apartment in a ferroconcrete two-story row house approximately 60m2 (650ft2) with a kitchen, a shower, a toilet, and three tatami rooms. Artists will be responsible for their own meals.
c) Guests
If the Artist would like to be accompanied by any spouse, partners, assistants or children and so on, please be sure to consult with committee when you apply to the program.
d) Transportation
KAIR will provide a shared automobile, a motor scooter or a bicycle for the artist. KAIR will pay for gas except when the Artist goes outside of Kamiyama for personal travel.
e) Communication
KAIR will provide a personal prepaid (up to 5,000JPN.) mobile telephone for the artist.
The apartment is equipped with high-speed internet access.
f) Insurance
The artist will be responsible for acquiring travel insurance (for injury and sickness) for the duration of residence. KAIR will not be guaranteed with insurance for the artist.
+ + + + + + + +
g) OTHER
– Cooperation with Record of Activities:
KAIR takes pictures of works and makes film for the record of all activities during the period. The artist must cooperate for the record.
– About Ownership and Copyright:
All work produced by the Artist during one's stay will become the property of KAIR. The artist reserves copyright of one's works. KAIR reserves the right to record (photo, film, etc.) and use them for publicity. And anyone who is permitted by KAIR may use the record freely.
– Artists Record Book:
KAIR will make an artists record book, and present 50 copies of the book to the Artist.
– About Artist's report:
The artist must submit a report about one's experience during KAIR. This report will include thoughts and opinions about all aspects of the residency.
– Cooperation with Public Relations:
The Artist should cooperate with public relations (press conferences or other requests) within the range of possibility. However it is possible to refuse when there is fear of an invasion of the artist's privacy or interference with the artist's work.
-Assistance for Activities:
The KAIR has facilitators and volunteers who support the artist during the program. The artist will discuss with facilitators, volunteers, and the committee in order to determine what kind of support is needed.
+ + + + + + + +
Kamiyama Artist-in-Residence Committee
[Address]132 Jinryo Aza Nakadu, Kamiyama-cho, Myozai-gun,
TOKUSHIMA Japan 771-3310
[TEL/FAX]+81-88-676-1177
[Email] applytokair@gmail.com
[URL]http://www.in-kamiyama.jp/en/art/
http://www.in-kamiyama.jp/en/art/kair/ (Kamiyama Artist in Residence)

▶▶▶▶The result will be announced by July22 on our website.

Art in Kamiyama
Articles by Art in Kamiyama
To comment
"Event"Latest bulletin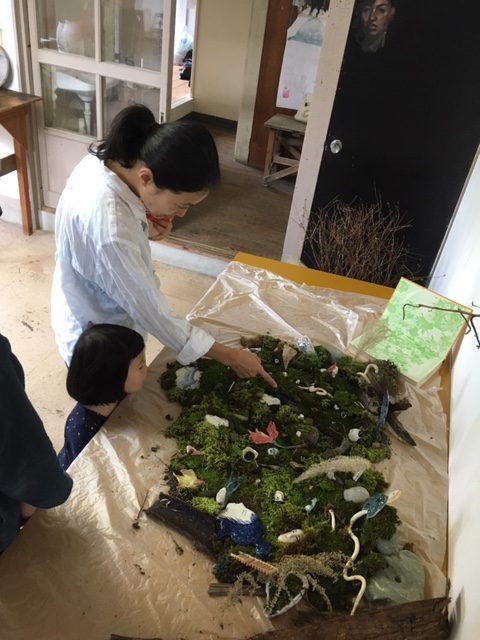 Event2019/09/01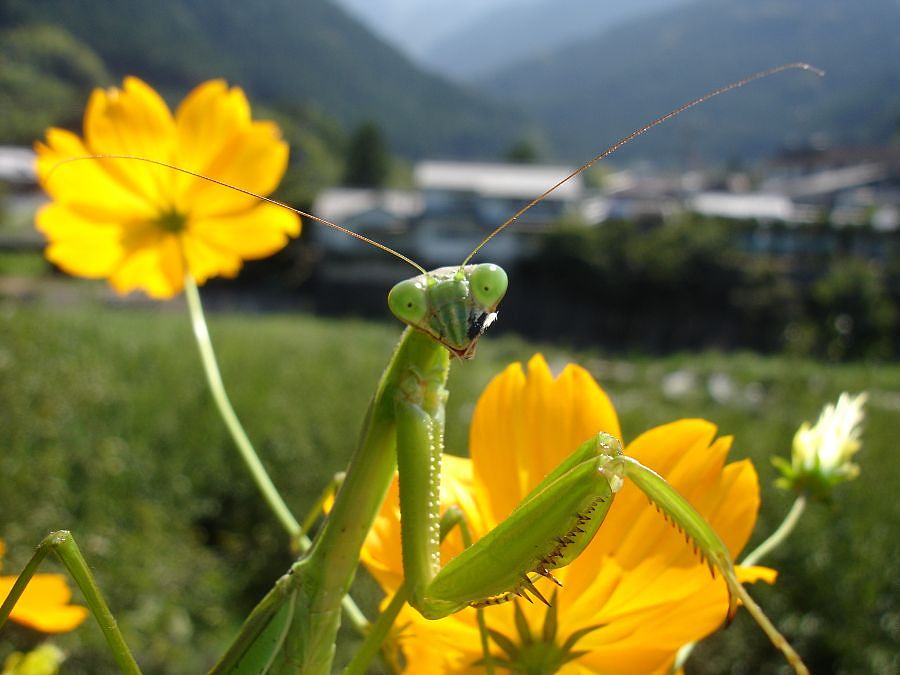 Event2019/07/26
"Event" archives