Sayonara Party KAIR 2008
On Sunday night, the Kamiyama Artist in Residence, which occurred over the course of approximately 70 days, drew to a close. The three artists of the 2008 program used Kamiyama's local materials and characteristics to make some wonderful artworks. In particular, it was very moving to experience their interaction with local people and other visitors.
Though not officially part of KAIR, Karin's husband's video installation had a great response with people as well.
With tours of Kamiyama and further afield in Tokushima, the welcome party, international cooking day, workshops at local schools, open studio day, the final exhibition, and the farewell party, there wasn't a lot of time left over for the artists to work on their projects. But everyone managed to keep smiling through it all and turned out some amazing pieces of art in the end, and for that I am grateful.
Committee Chairman Sugimoto gave the opening address at the party.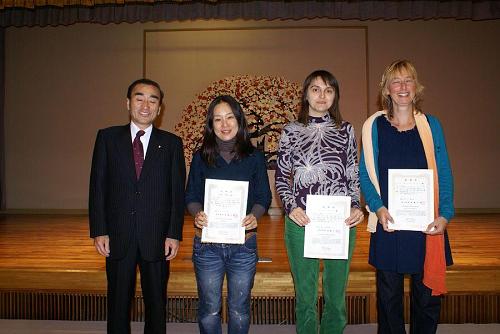 Kamiyama's Mayor Goto poses with the three artists after giving them certificates of appreciation and farewell gifts. Approximately sixty people attended the party.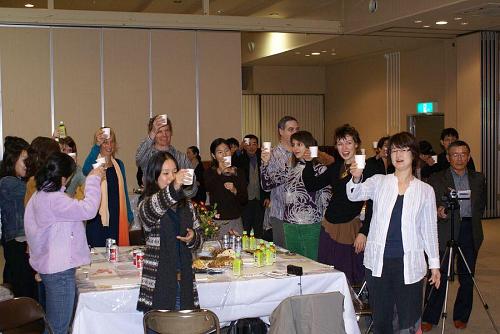 The head of the board of education gave the toast, and the party started. We all talked about the memories we've made together over the past 70 days.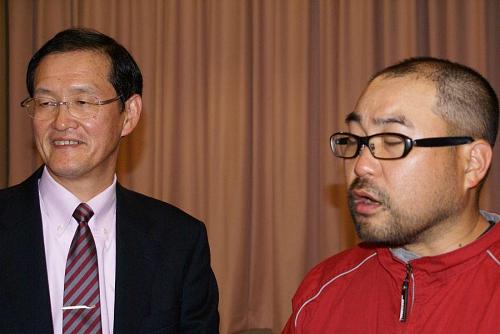 Mr. Yoshizawa, who was a participating KAIR artist in 2003. This was his second visit this year after attending the 10th anniversary party earlier this year. He spent the night before at my place and we drank and had some good conversation. He had to strap his paintings to the roof of his car and drive back to Tokyo right after the party ended that night, so he didn't have anything to drink.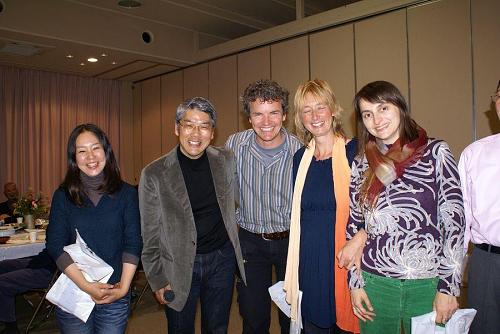 Mr. Ominami gave some towels to the artists, which he got from the recent visitors from Imabari City who are working on a community revitalization project of their own.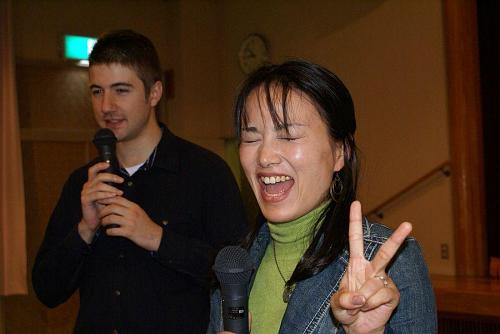 Ms. Naito, who was the KAIR photographer for 2005 and 2006. Two years ago, she met the prefectural office's interpreter Andrew at the KAIR welcome party, and now they are married. By Chie's request, Andrew has cut his hair short. He looks better than Tom Cruise!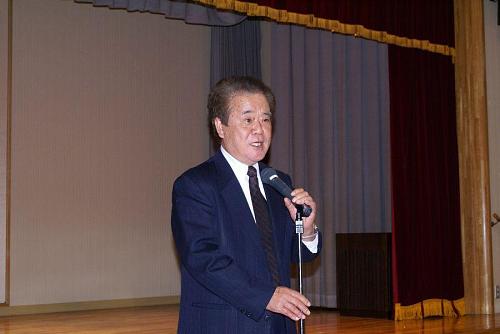 I gave the closing address. Chie took this photo for me.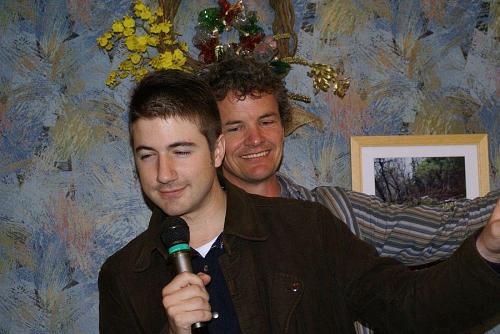 After we tidied up after the party, we proceeded to the karaoke afterparty. Here we see singing Andrew haunted by Pat over his shoulder.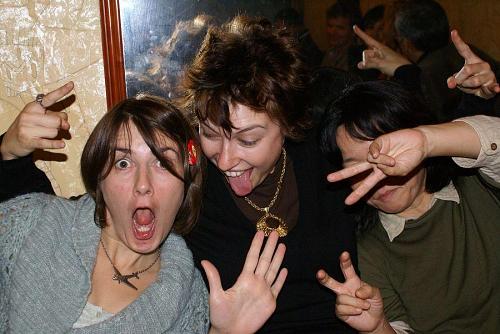 Once we start singing we can't stop! The excitement never ends!
A series of passionate choruses.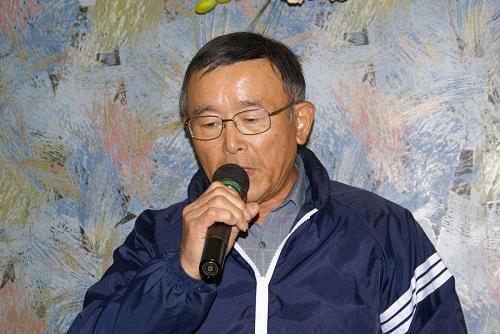 Papa Aihara has quite a voice. Mr. Ominami tells me this was the first time he ever heard him sing. I was blown away by his talent.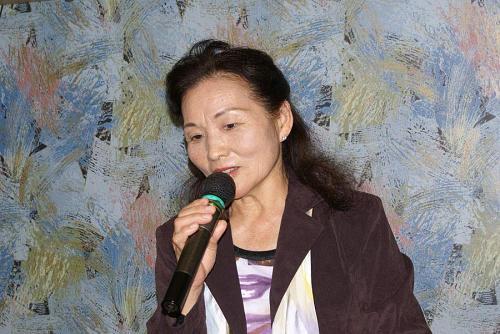 My wife Hiroko sang "Danna-sama." There's a huge difference between the contents of the lyrics and real life. Come to think of it, I don't think I've ever heard her say "…my beloved husband…" to me.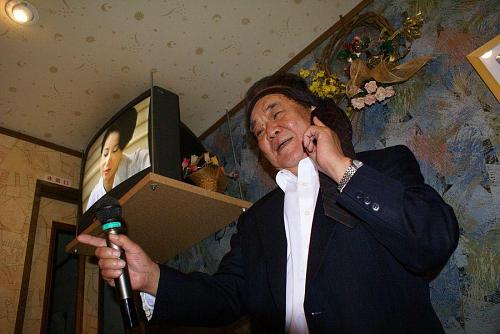 I sang Minami Haruo's "Chanchiki Okesa." Yes, that's a necktie on my head. (photo by Andrew)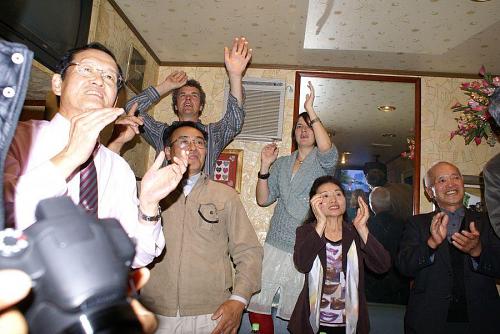 The night went on. Lastly, our classic final number, a rousing chorus of "KAIR" to the tune of "YMCA." To the far right you can see Mr. Higashidani. "Surrounded by young people like this, I feel like I could live a long time…" he says.
All in all, a very enjoyable evening.
Thank you to the many, many people who helped out on this year's artist in residence program, and thank you to the people who came from all over the country to view this year's final exhibition. This marks the end of this year's KAIR.

Toru Nakahara
KAIR & GreenValley supporter (~2012)
Articles by Toru Nakahara
To comment
"Diary"Latest bulletin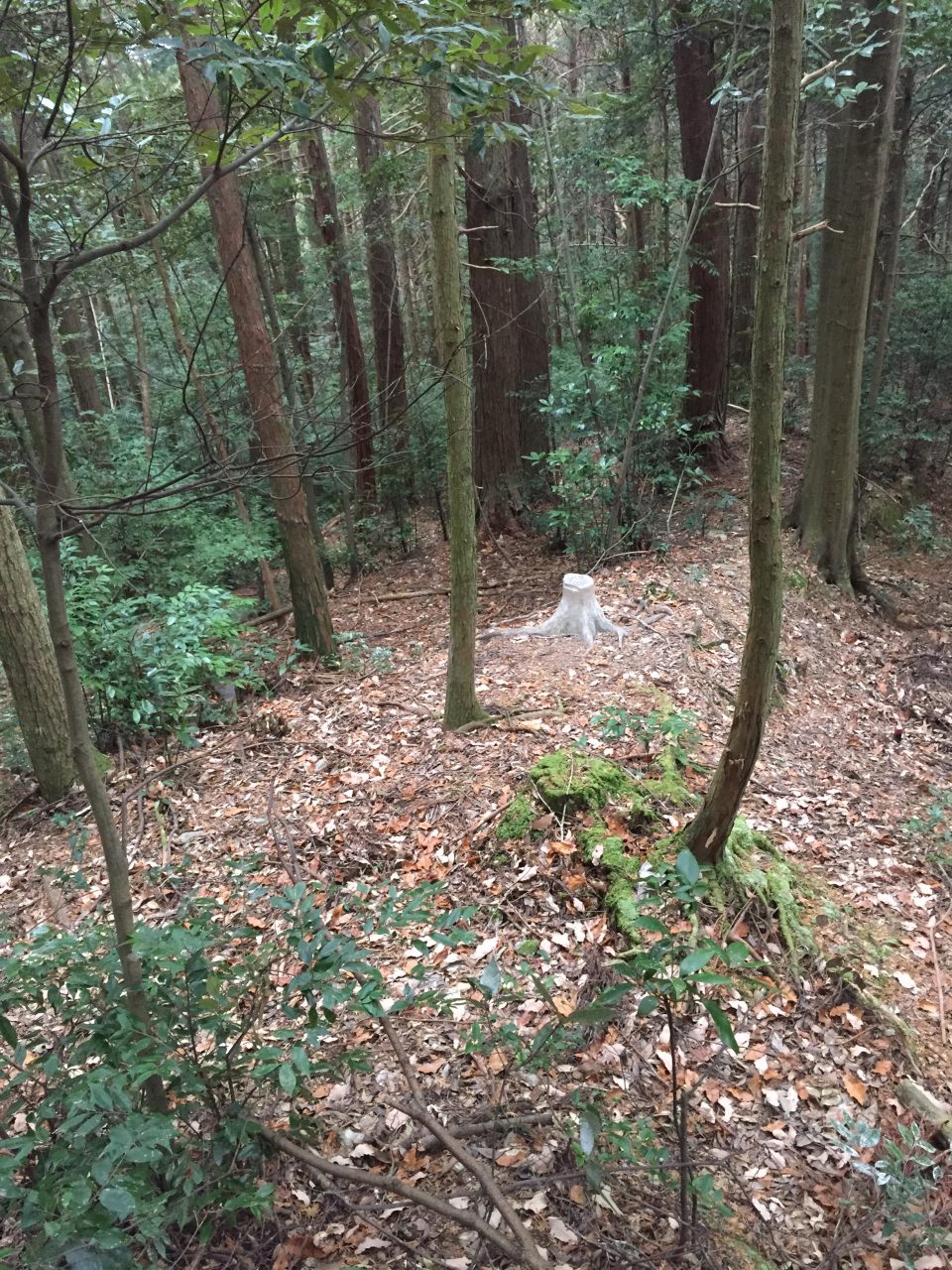 Diary2021/04/05 Diary2020/03/31 Diary2020/03/31
"Diary" archives