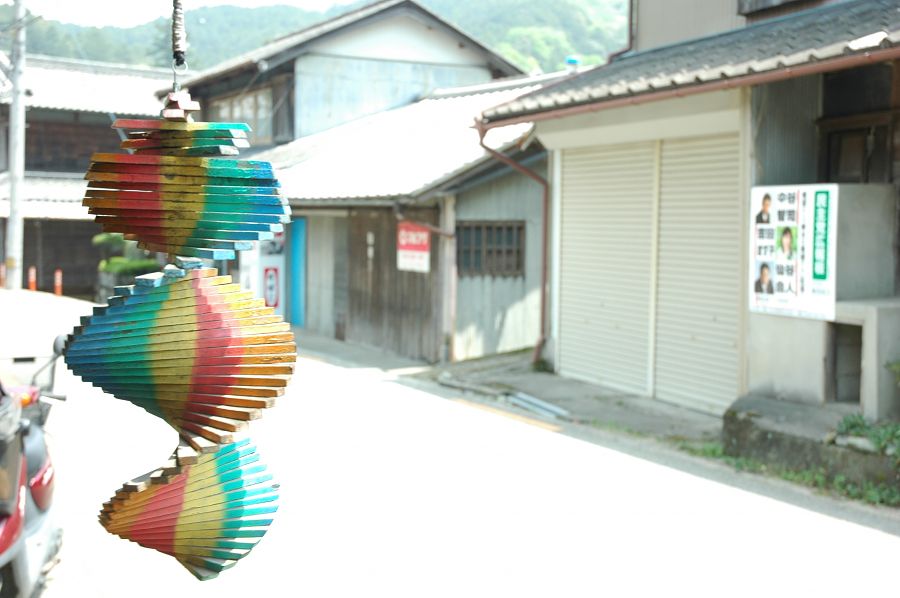 Golden Week in Kamiyama
Today was the last day of the Golden Week holiday, and my daughter and I made a trip to Kamiyama with another adventurous mom-and-daughter team. My friend grew up in Tokushima but she had never been to Kamiyama until today. It was great fun showing her around. I made sure to take lots of pictures.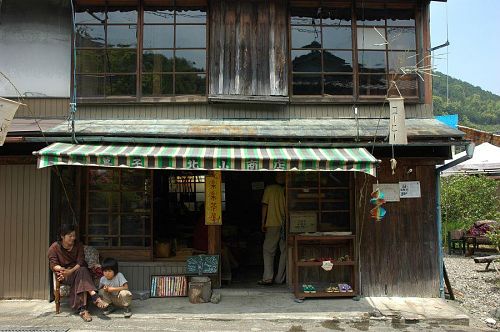 The Miyagi family who run Rakuon Rakujitsu have got the Rakuraku Chaya tea house going six days a week now, open from 11:00 to 17:00 and closed on Wednesdays (except when Wednesday is a national holiday, like today!) They have a small food and drink menu, including fried chicken kara-age (¥250), hemp-nut calzone (¥300), and "self" roasted coffee (¥250). They also sell a range of eclectic goods, including sea salt, Thai clothing, and indie CDs. The shop is located on the street up the hill from the Michi no Eki, across the street from the post office.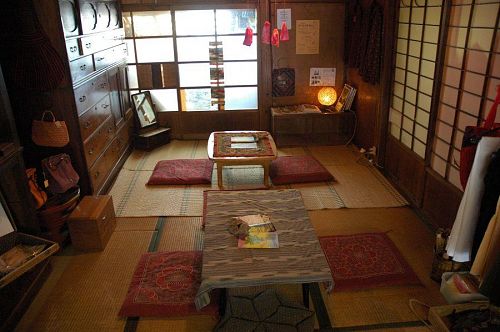 The Miyagi's dog, Peace, recently had puppies and then went missing just a week after they were born. The three cute little puppies were playing outside the cafe when we were there. They are already spoken for, but they are going to stay together for a few more weeks before they go to their new homes. Sofie and her friend had a great time playing with the pups.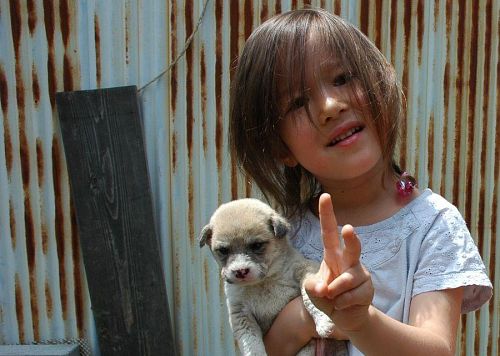 Right next door to Rakuraku Chaya is an empty storefront that will be renovated for a Work in Residence building, as part of a project to revitalize the largely shuttered shopping street. Kosuke Bando's team, Bas Architects, will be renovating the space this August. He has been in town during Golden Week with his team, measuring the building and talking with local experts about how to approach the project. The group just happened to come by the site with Mr. Ominami while I was there.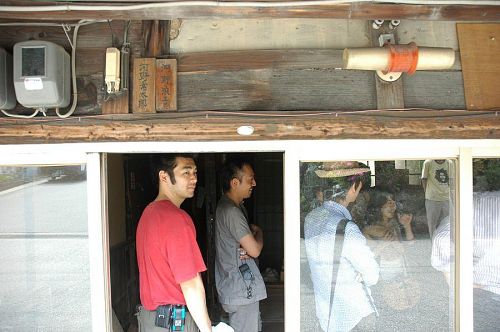 I got to take a look around the building and take some (somewhat horrific!) "before" pictures. I think I'll save them until I can match them up with some lovely "after" pictures this autumn. Green Valley is currently accepting proposals from people who want to use the space to open a business. The deadline is this Friday! I can't wait to find out what kind of shop it will become.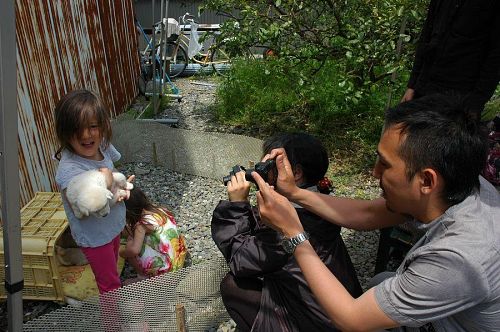 By this time it was about 12:30 and I casually mentioned I thought we'd stroll up to Maki Pan for some bread. Mr. Miyagi told me to run up there as fast as I could before they sold out, and he even volunteered to call ahead to see if they had anything left so it wouldn't be a wasted trip. It really is a hot spot right now! We decided to take our chances.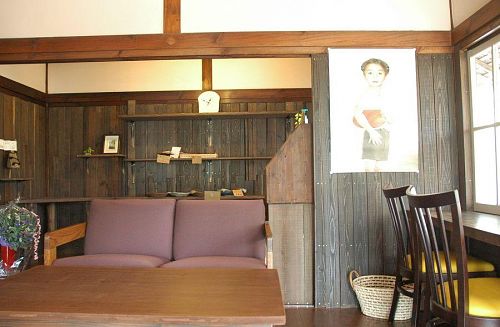 Lucky for us they hadn't sold out yet by the time we got there! However, during the 45 minutes or so that we spent in the shop, they sold out the rest of what they had and put out their "Closed" sign. You really do have to be quick! The bakery opens at 10:00am and fresh bread comes out of the oven at 11:00 and 12:00, and after that it is just a matter of time before it is all sold and they close up for the day. The shop is closed on Mondays. It's located right at the turnoff towards the onsen, two doors down from the Wata no Hana soba shop. Mr. Ominami has made a handy map which he posted on the Japanese side of this site.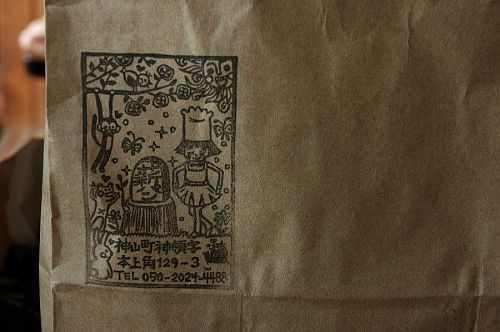 The bakery is super-cute. I bet it would be a great place to just sit with a coffee, a bun, and a good book.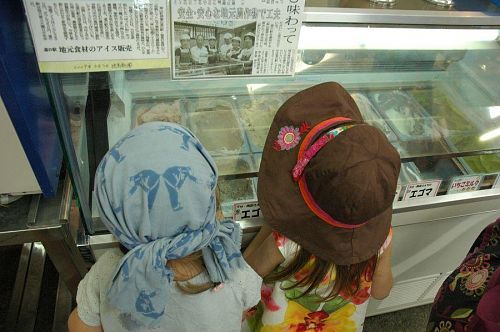 After we left the bakery, we walked down to the Michi no Eki for some ice cream. Yes, the whole day was basically one big meal. After our ice cream, we went for a bath at the onsen, but I didn't take any pictures of that!
Now that I have a car (yes, finally!) I will be able to spend more time in Kamiyama. I'm looking forward to posting more entries in the coming months to keep English-speaking in-Kamiyama readers up to date!

Claire
Canadian living in Tokushima City. Translator, Interpreter, and Sofie's mom.
Articles by Claire
To comment
"Diary"Latest bulletin Diary2020/03/31 Diary2020/03/31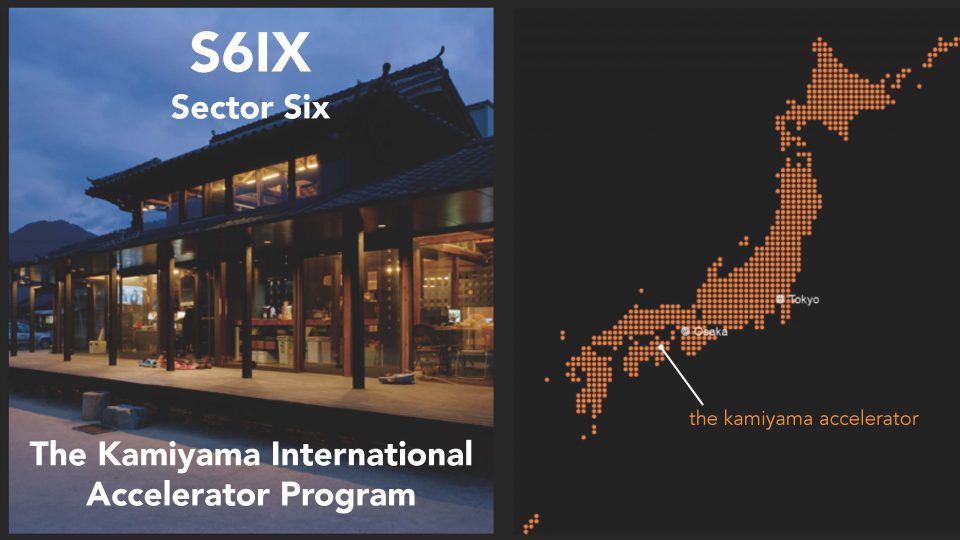 Diary2020/02/04
"Diary" archives